Historical Essay
Otto Ansorge: Image Gallery Essay
Jewelry and Postcard Publisher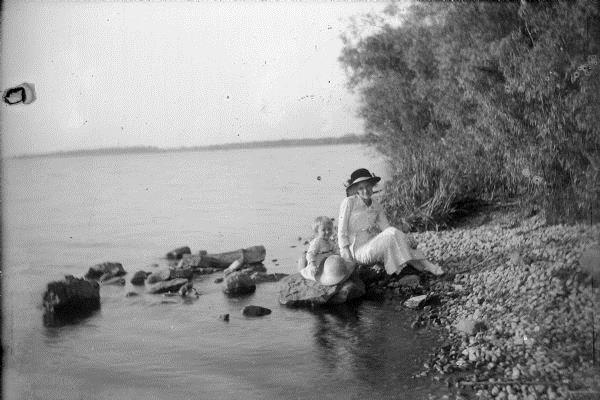 Alog Lake Winneconne
Wearing a long, white dress, white shoes and a large, ribboned hat, Mary Ansorge poses on a large stone on the rocky bank of Lake Winneconne. Her daughter, Betty, sits on a stone beside her, smiling and holding a large straw hat on her knees. View the original source document: WHI 108507
Hunting and Fishing Paradise: Postcard Visions of Early 20th Century Winneconne, Wisconsin
Selected from the Otto Ansorge Collection, this gallery is comprised of early 20th century images of Winneconne, Wisconsin. Gallery images have been digitized from 4 x 5 glass plate negatives that were originally produced to be printed as postcards. The negatives document local Winneconne businesses —including inns, resorts, restaurants, families and their homes, outdoor recreational activities and industries like boating, fishing, hunting and the natural beauty of the Lake Winnebago region, as well as events that took place in Winneconne, including an ice storm and a fire. Several images also document various subjects related to the Winnebago County School of Agriculture and Domestic Economy including the school's construction, events held at the school and products created by students. Built in 1907, the school was located on the east side of Wolf River on the southeast corner of East Main Street and Third Avenue. It closed in 1914, and became Winneconne High School, which burned down in 1949. Images in the gallery date from 1907 to 1922. A little over half of the 128 negatives in the collection are included.
Enlarge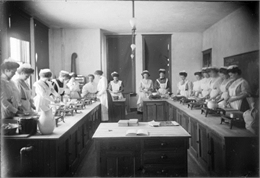 Home Economics Class
Home economics students dressed in aprons, dresses, and hats, stand in rows at counters tending pots at the Winnebago County School of Agriculture and Domestic Economy. View the original source document: WHI 108037
The identity of the collection's photographer is unknown. Some credit Ansorge as the image creator, and exposure issues in some of the original negatives do suggest the work of an amateur. In addition, several negatives feature Ansorge's wife, children and friends. However, post cards derived from the negatives read "Published by Otto Ansorge," so it is likely that Ansorge hired a professional to capture the most of the images. The original photographer's name does not appear on any of the postcards.
About Winneconne
Located in Winnebago County in central Wisconsin, Winneconne is a small town that spans the Eastern and Western banks of Wolf River. Lake Winneconne flanks Winneconne in the North and Lake Butte des Morts in the South. Oshkosh, Wisconsin and Lake Winnebago are located 12 miles south of the town.
The first European settlers came to Winneconne in the 1850s. During these early years, mills and shipyards dotted the shores of Wolf Creek. Early town residents were farmers, fishermen, millers and dockworkers. By 1855, the town's population was 855. In 1868, the Chicago, Milwaukee and St. Paul Railway extended their line past Winneconne, adding a depot to the town. This additional accessibility helped turn Winneconne into a tourist destination, and the town gained its reputation as a "hunting and fishing paradise." Images in this gallery reflect this vision of Winneconne.
Enlarge
Crowd at Farmer's Course
Slightly elevated view of crowd standing closely around a platform on which a man wearing an apron stands next to a cow. A barrel and wooden pail are also on the platform. Most of the crowd of men are looking toward the photographer. In the background is the Winnebago County School of Agriculture and Domestic Economy and a banner hangs below two of the windows. View the original source document: WHI 108165
Otto Ansorge
An early resident of Winneconne, Otto Ansorge commissioned photographic postcards of Winneconne and the surrounding area to be sold in his jewelry store on Main Street. Ansorge, a native of Greenbay, Wisconsin, originally came to Winneconne in 1895 to answer an advertisement for a jeweler and bandleader. Ansorge filled both roles for the next 63 years. He led the Omro and Winneconne community bands, and operated his jewelry business continuously until 1958. Ansorge was married to Mary Button Ansorge from 1910 until Mary's death in 1943. They had two children, Robert and Betty. Mary was a member of the Red Cross, Ladies Aid Society, an original founder of Winneconne's Civic League and helped start the town's first library. Otto served as town clerk, a municipal judge and leader of the Winneconne Boy Scout Troup.
View the Gallery
Interested in learning more about the online image collections? Subscribe to our monthly email newsletter, and tune in to our featured gallery exhibits and special image highlights today!