Field Trip or Tour
Hands-On History
Enhance your visit to Old World Wisconsin by bringing the museum experience to your classroom!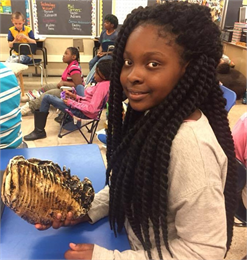 Enhance your visit to Old World Wisconsin with an in-person visit from our professional museum educators! This is the perfect way to prepare for your visit, or keep the conversation going after your return. Included free for the 2018-2019 school year with any visit to Old World Wisconsin, our 1-hour sessions are designed to engage the minds and excite the imaginations of young history explorers.
Hands-On History brings research-based, best practice, museum education into the classroom. Each 1-hour onsite session is unique depending on the needs of the students and teachers requesting the program.
Students engage with these objects the way that historians and archaeologists do, by asking questions and drawing conclusions for themselves: What can we learn from objects? What questions do we ask? How do objects help tell the story of the past?
Tied directly to the new Wisconsin Standards for Social Studies, these sessions are designed to enhance your classroom study of Wisconsin's past in meaningful, measurable ways.
Teachers choose from an array of topics within the span of Wisconsin history:
First Peoples and the Fur Trade
Explore the history of Wisconsin from the end of the last Ice Age to the height of the Fur Trade Era. From mammoth teeth to mound building to beads of glass, the land we now call Wisconsin is rich with stories from the distant past.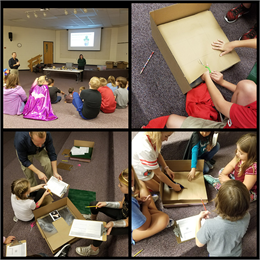 Journeys
They came to Wisconsin (and they keep coming)! From the Native Americans who have always been here to immigrants from all over the world, the story of Wisconsin continues on. Explore the stories of the Ho-Chunk, Swedes, Germans, Latinx, African Americans, Hmong, and more through images and artifacts from our collections.
Jobs
Dig through our lead mining past; learn the lore of the lumberjacks, explore shipwrecks, discover America's Dairyland and more as we burrow into Badger history through hands-on exploration of images and artifacts from our collections, focused on the jobs that drew people from all over the world to Wisconsin, our home.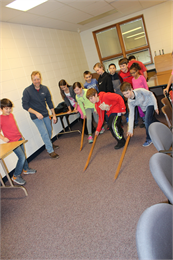 Hands-On Archaeology
Immerse your class in the discovery of a historic site through hands-on small group interactive work. Students take the on the roles of artist, recorder, digger, and site leader as they search through the layers of Wisconsin history. This session requires additional materials supplied by the onsite location.
Contemporary Wisconsin Indian Tribes *COMING SOON*
As European immigrants and Yankee settlers flooded into Wisconsin for lead, lumber, and land, the original inhabitants, Native Americans who traced their origin stories to the earth, air, and water around them, were pushed aside either by treaty, force, or both. But that was not the end of their story. Discover the rich history and modern lifeways of Wisconsin's American Indian tribes.
Email Education School Services for more information on costs, programming, and availability.