Historical Essay
Bad Axe, Battle of
Enlarge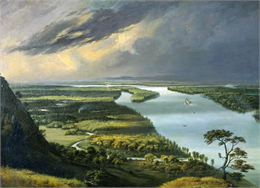 Bad Axe Battleground, 1856
This landscape painting by Samuel Marsden Brookes and Thomas H. Stevenson depicts a broad view of the confluence of Bad Axe and Mississippi Rivers; site of the concluding battle of the 1832 Black Hawk War. View the original source document: WHI 2531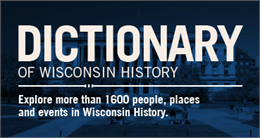 The Battle of Bad Axe on August 1-2, 1832, was the concluding battle of the Black Hawk War.
After holding off pursuers at the Battle of Wisconsin Heights (located about 1.5 miles south of present Sauk City, Wisconsin) Chief Black Hawk led his people over unfamiliar and rugged country toward the Mississippi River. In the meantime, the U.S. Army alerted authorities at Fort Crawford in Prairie du Chien.
Chief Black Hawk and his Sauk followers, by now reduced to about 400 starving men, women and children, reached the Mississippi at the mouth of the Bad Axe River on August 1. They immediately set to work making rafts and canoes. About 1,300 U.S. infantry and militia were only a day's journey away, and they had to cross now or be trapped on the banks of the river.
Just then, the steamboat "Warrior" arrived. Black Hawk made his third honest attempt to surrender [the first being at Stillman's Run and the second after the Battle of Wisconsin Heights]. The crew and the soldiers on the steamboat suspected it to be a trick, and they opened fire, killing 25 of Black Hawk's warriors and costing them valuable time.
As night fell on the desperate band, they were divided about what to do next. Most wanted to cross the Mississippi as soon as possible, but Black Hawk and Waubakeeshik wanted to proceed north by foot, and take refuge among the Ho-Chunk and Ojibwe.
Despite his desire to stand by his band at the Bad Axe, in the end Black Hawk, Wabokieshiek and their families escaped north on foot and hid near modern Tomah, Wisconsin. They remained there until discovered by a Ho-Chunk hunter who helped them surrender to the whites days after the massacre at Bad Axe.
Early on August 2, the remaining Sauk attempted to cross the Mississippi River. U.S. troops, who had arrived on the bluffs overnight, attacked them from behind. The steamboat "Warrior" returned to the scene about 10:00 a.m, firing its cannon. Warriors and the nearly starved non-combatants -- men, women and children -- were indiscriminately massacred on the shore, in the wetlands, and while trying to swim or canoe across the Mississippi. Most of the few who made it across were hunted down and killed by Sioux warriors acting at the request of U.S. officers.
Learn More
[Sources: Wyman, Mark. "The Wisconsin Frontier," Bloomington: Indiana University Press, 1998, and McBride, Sarah Davis. "History Just Ahead," Madison: Wisconsin Historical Society, 1999.]