Historical Essay
Iron Brigade
Civil War unit
Enlarge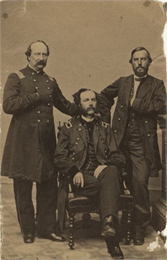 The Iron Brigade, 1863. Milwaukee, Wisconsin.
Wisconsin Leaders from the Iron Brigade. View the original source document: WHI 1993
"Iron Brigade" was the nickname of a Civil War unit composed of Wisconsin's 2nd Infantry, 6th Infantry, 7th Infantry, and the 19th Indiana Infantry, 24th Michigan Infantry, and Battery B of the 4th U.S. Light Artillery. The unit saw action at Bull Run, Antietam, Gettysburg, and other major battles. This was the only brigade made up chiefly of Wisconsin men, and no Wisconsin regiments suffered heavier losses or were more widely known.
The name "Iron Brigade" came from a remark made by General George B. McClellan when he saw the brigade advancing under a murderous fire during the Battle of South Mountain in September 1862. When Maj. Gen. Joseph Hooker approached, McClellan asked, "What troops are those fighting in the Pike?" Hooker replied, "General Gibbon's brigade of Western men." McClellan stated, "They must be made of iron." Hooker said that the brigade had performed even more superbly at Second Bull Run; to this, McClellan said that the brigade consisted of the "best troops in the world." (Cullen Aubery, Echoes from the Marches of the Famous Iron Brigade, pages 3-4).
Learn much more about the Iron Brigade at our digital collection, "Wisconsin in the Civil War"
Learn More
See more images, essays, newspapers and records about the Iron Brigade.

Dictionary of Wisconsin History
Explore more than 1,600 people, places and events in Wisconsin history.