Historical Essay
Everest, David Clark (1882-1955)
Businessman and Historical Society President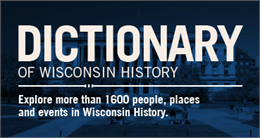 Enlarge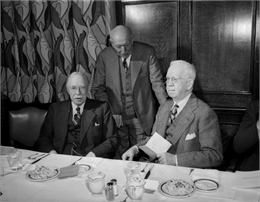 Founder's Day Banquet, 1950
Three members of the board of curators of the State Historical Society of Wisconsin sit at a banquet table. They are, from left: Professor Robert K. Richardson, Beloit, past President of the Society; David Clark Everest, from Rothschild WI, industrialist and donor of the annual Everest Prize; and George C. Sellery, Madison, former University of Wisconsin dean and general councilor of the Society.. View the original source document: WHI 63683
b. Pine Grove, Michigan 1882
d. Wausau, Wisconsin, October, 1955
David Clark Everest was a prominent Wisconsin businessman in the paper industry and briefly served as president of the Wisconsin Historical Society. Born in Pine Grove, Michigan in 1882, Everest came to Wausau in 1909 after working in Michigan and Illinois. He served as general manager of the Marathon Paper Mill Company — now the Marathon Corporation. He became president in 1938 and chairman of the board of directors in 1950.
Paper
Everett emphasized research and development in the paper specialty field. He helped found the Institute of Paper Chemistry at Appleton. He also helped develop Masonite fiber board.
Everest was president of the American Pulp and Paper Association from 1927 to 1928 and from 1937 to 1940 as well as the Wisconsin Manufacturers' Association in 1937. He was a consultant on forest products to both the state and national governments throughout his career. He served as an officer of corporations including the Wausau Paper Mills, Employers Liability Insurance Company at Wausau, Wisconsin Valley Improvement Co. and the First American State Bank at Wausau.
History
He was also active in historical organizations. Everest helped establish the Marathon County Historical Society, serving as its president until his death. Everest was president of the Wisconsin Historical Society from 1952 to 1955. During his incumbency, various historic sites were restored and opened under Society management, field services were expanded and the Society's building was renovated.
Learn More
See more images, essays, newspapers and records about David Clark Everest.
Dictionary of Wisconsin History
Explore more than 1,600 people, places and events in Wisconsin history.
[Source: Milwaukee Journal, Mar. 20, 1949, Oct. 29, 1955; Wausau Daily Record-Herald, Oct. 29, 1955; F. L. Holmes, et al., eds., Wis. (5 vols., Chicago, 1946); W. L. Holman, Descendants of A. Everest ([Concord, N.H.?], 1955). Dictionary of Wisconsin biography]