Historical Essay
Shepard, Eugene S. (1854-1923)
Lumberman, Resort Operator and Humorist
Enlarge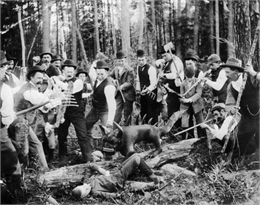 Capturing the Hodag
A staged scene depicting men poised with weapons pointed at a hodag, a mythical beast, who has attacked a child. Eugene Shepard is at far right, holding a stick. View the original source document: WHI 36382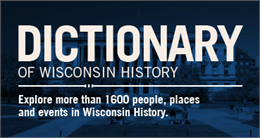 b. Green Bay, Wisconsin 1854
d. Rhinelander, Wisconsin 1923
Eugene S. Shepard was a lumberman, resort operator and humorist. He is most famous for developing the "Hodag" monster hoax that made Oneida County a tourist destination.
Early Life and Career
Born in Green Bay, Shepard spent his childhood in the area around New London. In 1885, he moved to Rhinelander, where he worked as a surveyor and timber cruiser for various lumber companies. He also drew up a plat book for Oneida and Vilas counties.
Humor and the Hodag
Famed as a humorist and practical joker, Shepard recounted many of the Paul Bunyan stories. His humorous sketches illustrating the Paul Bunyan legend were widely circulated. He is most famous for his "Hodag" monster hoax, which helped popularize Oneida County as a tourist attraction. In his later years, Shepard operated a resort near Rhinelander.
Learn More
See more images, essays, newspapers and records about Eugene Shepard.
Dictionary of Wisconsin History
Explore more than 1,600 people, places and events in Wisconsin history.
[Source: Dictionary of Wisconsin biography. F. L. Holmes, Badger Saints and Sinners (Milwaukee [1939]); Rhinelander New North, Mar. 29, 1923.]