Historical Essay
James, Ada Lois (1876-1952)
Suffragist, Social Worker and Reformer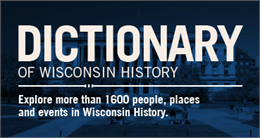 Enlarge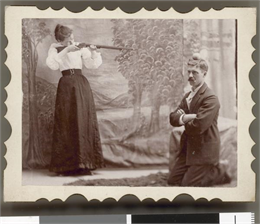 Ada Lois James with Rifle
Ada pretends to shoot an apple from the head of her friend Charlie. View the original source document: WHI 28320
b. Richland Center, Wisconsin, 1876
d. Richland Center, Wisconsin, September 1952
Ada Lois James was a social worker, reformer and suffragist active in politics throughout her life.
Suffragism
James graduated high school in 1894 and taught school for several years. Both her parents were active in the women's suffrage movement. Ada soon became involved in the movement as well.
In 1911 she became president of the newly formed Political Equality League. She held the office until 1913 when the league combined with the Wisconsin Woman's Suffrage Association, led by Mrs. Henry Youmans. Ada Lois James was active in many of the reform movements of the 1920s, including pacifism, birth control advocacy and prohibition.
Political Career
In 1922, she became vice-chairman of the Republican state central committee. In 1923, she was elected president of the Wisconsin Woman's Progressive Association. James left the organization when Robert M. La Follette insisted on supporting Governor John J. Blaine. During the 1920s, Miss James was involved in a series of slander suits with Levi H. Bancroft due to her support for S. E. Smalley for the Republican nomination as a Wisconsin circuit court judge.
Active in social work, she administered the David G. James Memorial Fund established in 1922 for the relief of needy families in Richland County. She was chairman of the county children's board for many years.
Learn More
See more images, essays, newspapers and records about Ada Lois James.
Dictionary of Wisconsin History
Explore more than 1,600 people, places and events in Wisconsin history.
[Source: Dictionary of Wisconsin biography. Milwaukee Journal, Dec. 21, 1924; Richland Center Richland Democrat, Oct. 2, 1952; Madison Wis. State journal, Sept. 30, 1952; A. L. James Papers.]