Historical Essay
Vieau, Jacques (1757-1852)
Fur Trader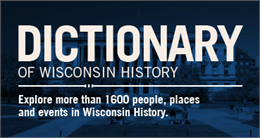 Enlarge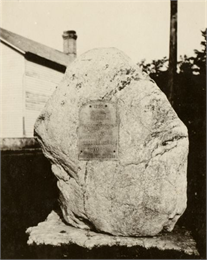 Vieau Trading Post Hitorical Marker
Jacques Vieau, agent for the Northwest Fur Company of Montreal, built a trading post here in 1796, on what is now called Jambo Creek after the nickname the Indians gave Vieau. This was also the first building in Manitowoc County built by a white man. View the original source document: WHI 38457
b. Montreal, Canada, 1757
d. Howard, Wisconsin, July, 1852
Jacques Vieau was a fur trader, born near Montreal, Canada. He moved to Mackinac Island around 1776, and became a clerk for the North West Fur Company. He traded at La Pointe and Green Bay.
Mackinac
In 1795, the company appointed him as an agent to establish trading posts along the west coast of Lake Michigan. He traveled southward by Mackinaw boat and opened posts at Kewaunee, Manitowoc and Sheboygan. He built a log cabin in Milwaukee and a warehouse along the bluff where the Green Bay trail crossed the Menomonee River. Vieau wintered at Milwaukee, returned to Mackinac each spring and spent summers at his land on the Fox River, near Fort Howard. By 1818 his Milwaukee post was operated by the American Fur Company. He beqeuthed the post to his son-in-law, Solomon Juneau. He traded for a few more years, and retired to his home near Green Bay.
Learn More
See more images, essays, newspapers and records about Daniel Greysolon Duluth.
Dictionary of Wisconsin History
Explore more than 1,600 people, places and events in Wisconsin history.
Colls. State Hist. Soc. Wis., 11 (1888); 15 (1900); K. K. Kennan, J. Vieau . . . (n.p. [1926?]).