Historical Essay
Kilbourn, Byron (1801-1870)
Land Speculator and Politician
Enlarge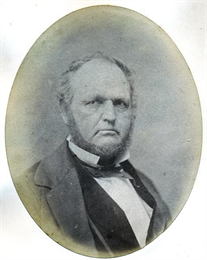 Byron Kilbourn, 1855
Portrait of Byron Kilbourn, Milwaukee businessman. View the original source document: WHI 9486
b. Granby, Connecticut, 1801
d. Jacksonville, Florida, December 1870
Surveyor, land speculator, canal and railroad promoter and politician. He moved with his parents to Ohio in 1803, and left school at the age of 13 to work as a clerk in his father's store. In 1823 he secured an appointment as an Ohio state surveyor, and was active for ten years surveying canal routes in the state.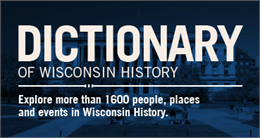 Kilbourntown
In 1834 he surveyed a portion of Manitowoc and Sheboygan counties in Wisconsin. He purchased land on the west bank of the Milwaukee River in 1835. To promote the town-site, Kilbourn helped finance the Milwaukee Advertiser. He wanted to make Milwaukee a trade center. He also sponsored Milwaukee harbor improvement, boat building, the Milwaukee Claim Association and the Milwaukee County Agricultural Society. In 1838, he and his competitor Solomon Juneau united their respective townships of Kilbourntown and Milwaukee village. But they soon disagreed on how to bridge the Milwaukee River. The final settlement was not built until 1846.
Politics
Enlarge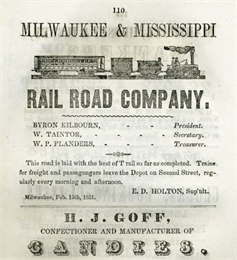 Rail Road Advertisement, 1851
Advertisement for Milwaukee and Mississippi Railroad Company. There is an engraving of a train and a list of the officers of the company. View the original source document: WHI 64016
Kilbourn was a Democrat. He served in the territorial lower house, but opposed the state constitution of 1846 because of its banking provisions. Elected to the second constitutional convention (1847- 1848), he was chosen chairman of the committee on general provisions, and helped draw up the preamble, the declaration of rights and the articles on banking, boundaries and amendments. In 1855 Kilbourn was defeated in the contest for U.S. Senator. He was elected mayor of Milwaukee twice (1848, 1854).
Railroads and Kilbourn University
Kilbourn was a pioneer in promoting Wisconsin railroads. He was the principal organizer of the Milwaukee and Waukesha Rail Road Company (1847), the first railroad company to construct lines in Wisconsin. The line was soon renamed the Milwaukee and Mississippi Rail Road Company, with Kilbourn serving as president until 1852, when he was forced to resign because of alleged fraud and mismanagement. He then became the principal organizer of a rival railroad, the La Crosse and Milwaukee, and obtained a land grant from the state. It was later discovered that Kilbourn and his associates had used $900,000 in railroad bonds to bribe various state officials in obtaining the land grant. The subsequent scandal and investigation ruined Kilbourn's public career; the company went into receivership. In 1858 he attempted to obtain a charter from the state for a liberal arts college for poor boys that he intended to call Kilbourn University. The legislature denied his request and he retired from public life. He moved to Florida in 1868 where he died.
Learn More
See more images, essays, newspapers and records about Byron Kilbourn.
Dictionary of Wisconsin History
Explore more than 1,600 people, places and events in Wisconsin history.
Sources: B. Still, Milwaukee (Madison, 1948); Wis. Mag..Hist., 19; A. M. Thomson, Political Hist. of Wis. (Milwaukee, 1900); A. W. Derleth, Milwaukee Road (New York, 1948); [F. A. Flower], Hist. of Milwaukee (Chicago, 1881); WPA field notes.