Historical Essay
Ballot Box Representing Fight For Women's Suffrage
Wisconsin Historical Museum Object - Feature Story
Ballot Box used in Town of Weston, Clark County, Wisconsin, ca. 1915.
(Museum object #2014.39.1)

Enlarge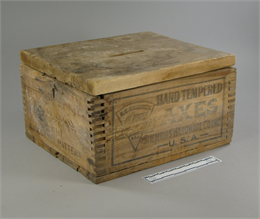 Ballot Box used in Town of Weston, Clark County, Wisconsin, ca. 1915.
Source: Wisconsin Historical Museum Object #2014.39.1 Gift of Helen Puro.
Note the keyhole cutout on the box side and the slot for ballots on top.
Source: Wisconsin Historical Museum object #1993.53
This simple ballot box, made from a crate that held axe blades, performed one of the most basic functions of a democracy—it securely held citizens' votes so they could be counted fairly. At the time of its use in the 1910s, half of the country's citizens could not legally place a ballot inside. The right to vote was denied for women since the founding of the country. It would take many decades and a tremendous amount of effort to give all eligible citizens access to the ballot box.
Enlarge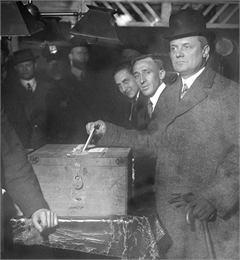 New York Governor Charles Seymour Whitman votes using a similar simple wooden ballot box, 1915-1918.
Courtesy of the Library of Congress, George Grantham Bain Collection.
This ballot box was used in the Town of Weston in Clark County, Wisconsin. Someone in county government refashioned a simple shipping crate for use in local elections. Cyrus Forman (1840-1933), who was active in local politics in Weston for many years, originally possessed the box after it was no longer used. Research of the ink label indicates that it was shipped from the Wisconsin Pattern Works of Racine, which was founded in 1913. Forman likely acquired the box because of his long-standing position as town clerk.
Forman was born in Vermont in 1840 and moved to Wisconsin in 1854. He married Fannie Olivia West and eventually settled in the Town of Weston in 1877. He was clerk of the Town of Weston for a number of years and also served on the town board and on the school board of his district. In all, he served as town clerk at different times for 20 years. The box was passed down as a family heirloom to Forman's great-granddaughter, Helen Puro, who donated it to the Wisconsin Historical Society in 2014, 100 years after it was first used to hold ballots.
This box is special because of its rarity. Items like this are simply not kept. Perhaps Forman was proud of his service as town clerk? Maybe he recognized the importance of a secure election as fundamental to American democracy? Today, the box is an artifact of a time when women were prohibited from voting just because of their sex. It's a physical representation of what they were denied, and gaining access to this box was the ultimate goal.
Suffrage, the right to vote, had been denied women since the founding of the United States. However, the effort to convince men to allow women this basic right had gained strength by the early 1900s. By 1920, the massive effort to amend the Constitution and grant suffrage to all citizens, regardless of gender, finally succeeded with the certification of the 19th Amendment on August 26, 1920. In the 100 years since, the path to full political participation for women has been bumpy. But the first step—amending the Constitution—directly and indirectly allowed for major social and political change in the United States.