Historical Essay
Hooper, Jessie Annette Jack [Mrs. Ben Hooper] (1865-1935)
Suffragist and Lecturer
Enlarge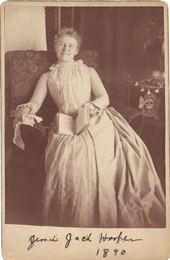 Jessie Jack Hooper, 1890
Jessie Jack Hooper relaxes in a chair. The portrait may have been taken at the Sawyer House in Oshkosh. She was a suffrage speaker, Democratic Party leader, and worker for permanent peace. Mrs. Hooper is wearing an avant-garde or artistic dress, a garment that came out of the 1880s dress reform movement. View the original source document: WHI 97826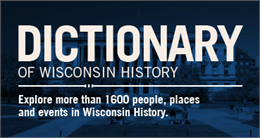 b. Winneshiek County, Iowa, 1865
d. Oshkosh, Wisconsin, May, 1935
Jessie Annette Jack Hooper was a suffragist who married Oshkosh lawyer Ben Hooper in 1888 and became prominent in Wisconsin civic reform groups and women's organizations. She campaigned for a children's code in Wisconsin to raise the age of consent for girls. She also campaigned for changes jury duty laws and the protection of women in industry.
Suffragism
Jessie was an ardent suffragist. She worked in the Wisconsin Suffrage Association, lectured frequently and lobbied in Washington for women's right to vote. After woman's suffrage was enacted, the National Woman's Suffrage Association became the National League of Women Voters. Hooper became the first president of the group's Wisconsin branch. In 1922 she was Wisconsin's unsuccessful Democratic nominee for the U.S. Senate. During World War I, she was active in Red Cross work, Liberty Loan drives and food conservation.
World Peace
Following the war, she became interested in world peace. Hooper organized the Conference on the Cause and Cure for War with Carrie Chapman Catt in 1928. In 1932, the Conference sent her to the Geneva Disarmament Conference with a gigantic peace petition. In 1933 she campaigned for U.S. entry into the World Court. Her health undermined by extensive travel and campaigning, she died in Oshkosh in 1935.
Learn More
See more images, essays, newspapers and records about Jessie Hooper.
Dictionary of Wisconsin History
Explore more than 1,600 people, places and events in Wisconsin history.
Source: Dictionary of Wisconsin biography. Dictionary of American Biography, Suppl. 1; Who's Who in America, 18 (1934); Oshkosh Daily Northwestern, May 8, 1935; J. A. J. Hooper Papers.