Resource Description
About the Wisconsin Citizen Petitions, 1836-1881
Wisconsin Citizen Petitions
About the Wisconsin Citizen Petitions
Enlarge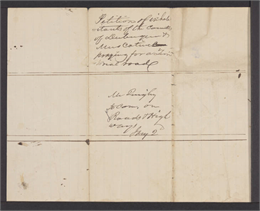 Petition for territorial road
Petition for building a territorial road in Dubuque and Muscatine Counties
From the 1830s to the late 1880s, Wisconsin citizens directly petitioned the Territorial, and later, State Legislature to approve, reject, and edit the legal decisions and policies that affected their communities.
Citizen petitions are among the earliest legal records in the Wisconsin State Archives, providing unique and valuable documentary evidence about the role citizen groups played in shaping Wisconsin's government, infrastructure, and public institutions. The decades covered by this project reflect a time of great change and growth in the state, when Wisconsin residents worked through legal and constitutional channels to influence the state's development and public policies.
Over 2,500 unique documents from the Petitions, Remonstrances, and Resolutions — are available online. Additional petitions from 1836 to 2005 are avaiable by visiting the Archives Reading Room.
Petitions consist of an introductory narrative by a citizen or group of citizens describing a topic of local interest and signed by a number of community members. Some petitions are similar to "form letters" where nearly identical text is prepared and a blank space is included for signatures. Most citizen petitions are tri-folded legal-size documents and remain tied in their original bundles or envelopes. Some petitions are a single page, while others are several pages fastened together.
The collection includes petitions, remonstrances, and resolutions. These are three different types of documents, all with the same purpose.
Important Definitions
Petition
A formal written request presented to a civic authority or organized body (such as a territorial legislature or a municipal court), signed by petitioner/s to show support of a cause or concern.
Remonstrance
A formal written document presented to a civic authority or organized body, voicing opposition or grievance and stating reasons for such points, signed by remonstrator(s) to show support of concern.
Resolution
A formal expression of opinion, will, or intent, voted upon by an official body or assembled group.
How is the Petition Collection Organized?
Online
Online petitions were scanned to be exact duplicates of the physical items. Unique physical items are presented online intact, clearly identifying their creation date, title, scope, and place of origin. Digitized items can be browsed on your screen just as you would handle the original records in the Society's Archives Reading Room.
Access online documents from the Wisconsin Citizen Petitions, 1836-1880 Collection.
The petitions are handwritten, so documents cannot be searched using a text search function. However, a summary of the petition is included in the metadata to provide the fullest possible access without transcribing the petitions.
Original documents
The original "Petitions, Remonstrances, and Resolutions" record series is available in the Archives Reading Room at the Society's headquarters in Madison. The collection is arranged in chronological order, and thereunder by petition number.
Note: The collection contains over twice as many items than are available online, as only the first copy of a repeating item is scanned. For example, the record series contains multiple petitions for a second Constitutional Convention. Only one copy is online.
Complete descriptions of the collection can be found in the:
Descriptive Finding Aid of the collection.
Learn More
Brief descriptions and links to important original source documents in the collection. Short blurbs describe the background and implementation of citizen petitions as well as the range of reactions, including opposition and violence.
Track significant events around which citizen petitions occur. Events are linked to an original item that provides more detail.
See Digitized Wisconsin Citizen Petitions, 1836-1880
Early citizen petitions, remonstrances, and resolutions gathered for easy browsing.
Presentations and guides that will help teachers and students incorporate early citizen petitions, remonstrances, and resolutions into classroom activities.