Historical Essay
Cadle, Richard Fish (1796-1857)
Missionary and Clergyman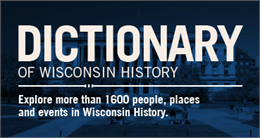 b. New York City, New York, 1796
d. Seaford, Delaware, November, 1857
Richard Fish Cadle was one of the first missionary clergymen appointed by the American Protestant Episcopal Church. He founded many Episcopal parishes across territorial Wisconsin. He was also a chaplain for Wisconsin's Territorial Legislature from 1843 to 1844.
Education
Richard was one of 10 children born to Thomas Cadle and Sarah Fish. He graduated from Columbia College with an M.A. in 1816 and was ordained a deacon the same year. He started his career serving churches in New York and New Jersey. He also was a missionary in Detroit.
Enlarge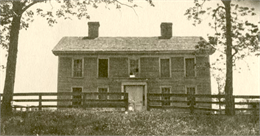 Cadle Mission School, 1900
Green Bay, Wisconsin, school founded by Richard Fish Cadle. View the original source document: WHI 31499
In 1829, he moved to Green Bay, Wisconsin, where he helped establish an Episcopal mission school. He also acted as chaplain in the United States Army at Fort Howard in Green Bay and served as rector of Trinity Parish.
Missionary Work
He later served in other parishes across Wisconsin. He went on to help found parishes in the communities of Prairie du Chien, Mineral Point, Elkhorn and Whitewater.
From 1841 to 1842, he was superintendent of the mission at Waukesha, Wisconsin, which the famous Nashotah house grew out of.
In 1843, he started a one-year term as chaplain of the Wisconsin Territorial Legislature. In 1844, he returned to the Eastern United States, where he served parishes in New York, Vermont and Delaware. He died on November 9, 1857, and was buried at St. Luke's church cemetery in Seaford, Delaware.
Learn More
See more images, essays, newspapers and records about Richard Fish Cadle.
Dictionary of Wisconsin History
Explore more than 1,600 people, places and events in Wisconsin history.
[Sources: H. E. Wagner, Episcopal Church in Wis. ([Waterloo, Wis.] 1947); J. Kemper Papers; H. Greene, R. F. Cadle (Waukesha, 1936); Wis. Mag. Hist., 8, 16; WPA MS. Dictionary of Wisconsin biography]