Historical Essay
Stephenson, Isaac 1829-1918
Lumberman, Financier and Congressman
Enlarge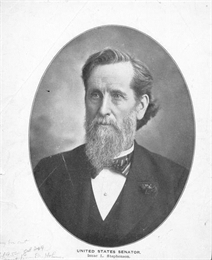 Isaac M. Stephenson
Portrait of United States senator Isaac Stephenson. View the original source document: WHI 2883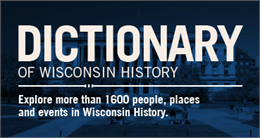 b. Yorkton, Canada, 1829
d. Marinette, Wisconsin, March, 1918
Isaac Stephenson was a lumberman, financier, politician, congressman and U.S. Senator. He worked in the lumber industry in the eastern U.S. for several years, mostly in Maine. In 1845, he moved to Wisconsin. He briefly managed absentee timber properties, and soon entered the lumber business for himself. In 1858, he settled permanently in Marinette, where his lumbering operations steadily expanded, especially during the Civil War.
Real Estate
Stephenson suffered heavy losses in the 1871 Peshtigo fire. He soon recovered, and became one of the wealthiest lumbermen in the Great Lakes area. He held real estate in Marinette, Green Bay, Milwaukee, Chicago and throughout the Great Lakes, as well as vast acreages of pine lands in northern Wisconsin and Michigan.
Politics
A Republican, Stephenson's wealth made him an important figure in state politics. He was state assemblyman in 1866 and 1868. In 1882, he was elected to Congress and served three terms from 1883 to 1889. He was not a candidate for re-election in 1888. In 1899, he made an unsuccessful bid as a U.S. Senator. In 1900, he gave his support and substantial financial contributions for Robert M. La Follette, Sr., in his campaign for Wisconsin governor. Stephenson served as a prominent adviser to the Progressive faction of the Republican Party for several yeras. He also contributed generously to its campaign funds. In 1901, he established the Milwaukee Free Press, providing Progressive-Republicans with a metropolitan newspaper.
In 1907, Stephenson sought the U.S. Senate seat made vacant by the resignation of John C. Spooner. After a brief deadlock, Stephenson was elected by the Progressive-controlled state legislature. In 1908, he ran for re-nomination in the Republican primary, was opposed by La Follette — presumably because of his age. Despite the opposition, Stephenson won the nomination through lavish use of his personal wealth. He was re-elected by the legislature in 1909. His election was blocked twice by fraud investigations in the state legislature and the U.S. Senate. Stephenson was eventually vindicated of the charges and resumed his seat in the Senate. He served from May 1907 to 1915. After returning from Washington in 1915, Stephenson retired to his home in Marinette, where he remained until his death. Noted for his local philanthropies in Marinette, a park, street, and memorial library are named in his honor.
Learn More
See more images, essays, newspapers and records about Isaac M. Stephenson.
Dictionary of Wisconsin History
Explore more than 1,600 people, places and events in Wisconsin history.
Dictionary of American Biogiography. I. Stephenson, Recollections of a Long Life (Chicago, 1915); Wis. Blue Book (1911); Biog. Dir. Amer. Cong. (1928); R. S. Maxwell, La Follette and the Rise of the Progressives . . . [Madison, 1956]; Marinette Star, June 19, 1922; Superior Telegram, Mar. 15, 1918.