Historical Essay
Martin, Morgan Lewis 1805-1887
Lawyer, Judge, Politician and Land Speculator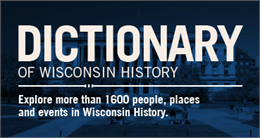 b. Martinsburg, N.Y., 1805
d. Green Bay, Wisconsin, December, 1887
Lawyer, judge, politician and land speculator. He graduated from Hamilton College in Clinton, N.Y. in 1824, and studied law in Lowville, N.Y. In 1826, he moved to Detroit where he was admitted to the bar in 1827 and set up a law practice. The same year, he acted on the advice of his cousin James Duane Doty and moved to Green Bay, which was then a part of Michigan Territory.
Politics
From 1831 to 1835, he served as a member of the Michigan territorial legislature. Martin served in the upper house of the Wisconsin territorial legislature from 1838 to 1844, and became its president from 1842 to 1843. He was territorial delegate in Congress from 1845 to 1847, and served as president of the second Wisconsin state constitutional convention. He was state assemblyman in 1855 and 1874, and state senator in 1858.
Land Speculation
During the Civil War, Martin served as paymaster in the Union army as a major. Martin toured Wisconsin's lead region as early as 1828. In 1829, he accompanied Doty to Prairie du Chien as district attorney pro tempore. He promoted various Fox-Wisconsin River improvement projects for almost fifty years, and spent most of his later life litigating for payments that he claimed were due him in connection with the project.
Martin also helped develope early Milwaukee. In July, 1833, he visited the mouth of the Milwaukee River and sketched a "Map of Milwaukie," dated August, 1833. In October, he and Solomon Juneau entered an oral agreement regarding joint promotional activities in the area. Martin purchased a half interest in Juneau's pre-emptive claim on the east side of the Milwaukee River, and in 1834 bought a pre-emption right to the south of Juneau's claim. Together, Martin and Juneau platted the village of Milwaukee, graded streets and erected many of the first buildings. Martin was also prominent in many early territorial banking and railway activities. In 1866, he was an unsuccessful candidate for Congress. He served as U.S. Indian agent from 1866 to 1869, and county judge of Brown County from 1875 until his death.
Learn More
See more images, essays, newspapers and records about Morgan Lewis Martin.
Dictionary of Wisconsin History
Explore more than 1,600 people, places and events in Wisconsin history.
Biog. Dir. Amer. Cong. (1928); Colls. State Hist. Soc. Wis., 11 (1888); Proc. State Hist. Soc. Wis. 1906 (1907); J. Schafer, Winnebago-Horicon Basin (Madison, 1937); Green Bay Daily State Gazette, Dec. 12, 1887; WPA MS; M. L. Martin Papers.