Historical Essay
Baker, Ray Stannard [David Grayson] (1870-1946)
Author and Editor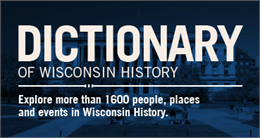 b. Lansing, Michigan, 1870
d. Amhurst, Massachusetts, July, 1946
Ray Stanard Baker — also known as David Grayson — was an author. In 1875 he moved with his family to Wisconsin, settling in St. Croix Falls where he came to know the wild North Country intimately.
Journalism
He graduated from Michigan Agricultural College with a B.S. in 1889, and studied law and literature at the University of Michigan. In 1892, he moved to Chicago and began his writing career; he soon became a national figure. Much of his writing focused on his boyhood experience of Wisconsin. He worked as a journalist and editor from 1892 to 1915 for the Chicago Record, McClure's Magazine and the American Magazine as a muckraker. In serialized articles, he showed interest in Robert M. La Follette's reform movement.
Writing
In 1906, Baker adopted the pen name "David Grayson." He devoted his writing to the charms of rural life. His Wisconsin background was apparent in many romantic references to his boyhood and the northland. His most famous works from this period include "Adventures in Contentment" in 1907, "Adventures in Friendship" in 1910 and "Adventures in Understanding" in 1925. During World War I, Baker served as a special commissioner of the Department of State and became an intimate friend and admirer of President Wilson. In 1919, Baker was appointed director of the press bureau at the Paris peace conference. Baker went on to write the Pulitzer Prize-winning "Woodrow Wilson: Life and Letters" from 1927 to 1939. Among his last works were the autobiographical "Native American" in 1941 and "American Chronicle" in 1945.
Learn More
See more images, essays, newspapers and records about Ray Stannard Baker.
Dictionary of Wisconsin History
Explore more than 1,600 people, places and events in Wisconsin history.
New York Times, July 13, 1946; Who's Who in Amer., 24 (1946); R. S. Baker, Native Amer. (New York, 1941); R. S. Baker, Amer. Chronicle (New York, 1945).