Historical Essay
Brown, Olympia 1835-1926
Suffragist and Minister
Enlarge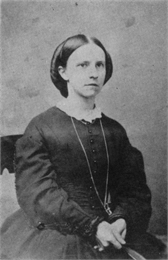 Olympia Brown, 1865
Seated portrait of Olympia Brown. View the original source document: WHI 115683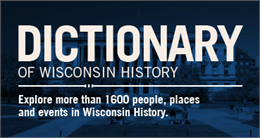 b. Prairie Ronde, Michigan, 1835
d. Racine, Wisconsin, October, 1926
Olympia Brown was a suffragist and Universalist minister. She graduated from Antioch College, Ohio in 1860 and from the Theological School of St. Lawrence University in Canton, N.Y. in 1863.
Suffragism
She became the first woman in America to enter the ministry of an organized church when she was ordained in the Universalist Church in 1863. She held a pastorate at Weymouth, Massachusetts in 1864 and in Bridgeport, Connecticut in 1869. Brown met Susan B. Anthony at a national suffragist convention in 1866 and became an ardent suffragist. In 1867, she campaigned in Kansas for a state constitutional amendment to remove the term "male" from voting requirements. She organized several suffrage societies in New England and continued working in the ministry. She married John H. Willis in 1873, but retained her own name.
Good Shepherd
In 1878, she moved to Wisconsin and accepted the pastorate of the Good Shepherd Church in Racine. She also preached at Mukwonago, Neenah and Columbus. Her husband was part owner and business manager of the Times Publishing Company in Racine. After he died in 1893, Mrs. Brown managed his business affairs. In 1882, she joined the Wisconsin Woman's Suffrage Association and became the group's president from 1887 to 1912. She spent many years traveling and lecturing in favor of woman's suffrage. In 1914, she moved to Baltimore, Maryland, to live with her daughter. During the 1924 presidential campaign she was an ardent supporter of Robert M. La Follette, Sr.
Learn More
See more images, essays, newspapers and records about Olympia Brown.
Dictionary of Wisconsin History
Explore more than 1,600 people, places and events in Wisconsin history.
Dict. Amer. Biog.; O. B. Willis, Acquaintances . . . among Reformers ([Milwaukee] 1911); M. M. Quaife, Wis. (4 vols., Chicago, 1924); E. C. Stanton, et al., eds., Hist. of Woman Suffrage (6 vols., New York, 1881-[1922]); Who's Who in Amer., 8 (1914); Racine Journal News, Oct. 25, 1926.