Historical Essay
Spooner, John Coit 1843-1919
Lawyer and Politician
Enlarge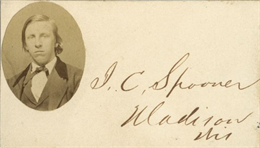 John Coit Spooner, 1859
John Coit Spooner, Captain, 50th Wisconsin Infantry, when he was a student at the University of Wisconsin. He graduated in 1864. After serving in the Civil War, Spooner had a long political career, and became one of the great conservative politicians of his era. View the original source document: WHI 38111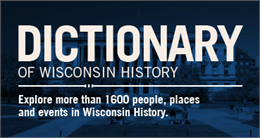 b.
Lawrenceburg, Indiana, 1843


d. New York City, New York, June, 1919

John Coit Spooner was a lawyer, politician and U.S. Senator. He moved with his parents to Wisconsin in 1859 and settled in Madison. He graduated from the University of Wisconsin with a PhD in 1864. During the Civil War, Spooner served in Company D, 40th Wisconsin Volunteer Infantry of the 100-day volunteers, from May to September of 1864 and as captain of Company A, 50th Wisconsin Volunteer Infantry from 1865 to June 1866. He was mustered out with the brevet rank of major, U.S. Volunteers.
Legal Career
He returned to Madison after the war, studied law, was admitted to the bar in 1867 and soon became a prominent lawyer and politician. He specialized in railroad law and took up residence in Hudson, where he was solicitor for the Omaha system from 1873 to 1884. After returning to Madison, Spooner served as counsel for the Northern Pacific receivers from 1893 to 1896.
Politics
A Republican, Spooner began his long political career in 1866 when he was selected as secretary to Governor Lucius Fairchild. He was assistant state attorney general from 1868 to 1870, and state assemblyman in 1872. He was a regent of the University of Wisconsin from 1882 to 1886. In 1885, the Wisconsin legislature chose Spooner as U.S. Senator. He served from 1885 to 1891. Spooner was defeated in the 1891 senatorial election. He returned to his law practice, moved to Madison in 1893, but remained active in politics, recognized as a leading Stalwart Republican. In 1897 and 1903 he was chosen again as U.S. Senator, and served from March, 1897, until his retirement in April, 1907.
As U.S. Senator, Spooner became one of the most powerful conservative politicians in the nation. Although he influenced numerous measures, only two bore his name: one establishing civil government for the Philippines in 1901, and a canal act in 1902.
La Follette
Presidents Harrison, McKinley and Roosevelt consulted Spooner on political strategy, foreign policy and legislative programs. Spooner was an implacable foe of Robert M. La Follette, Sr., and a powerful stump speaker against the Progressive faction in several of its early campaigns. Spooner was instrumental in 1904 in seating Wisconsin's Stalwart delegation in the Republican national convention of that year. To retain his important position in the Senate, Spooner declined numerous cabinet appointments. He resigned his position shortly after La Follette was elected senator. From 1907 until his death, Spooner practiced corporation law in New York City.
Learn More
See more images, essays, newspapers and records about John Coit Spooner.
Dictionary of Wisconsin History
Explore more than 1,600 people, places and events in Wisconsin history.
Source: Dict. Amer. Biog.; Biog. Dir. Amer. Cong. (1928); Natl. Cyclopaedia Amer. Biog., 14 (1917); Milwaukee Sentinel, June 11, 1919.