Historical Essay
Birge, Edward Asahel 1851-1950
Zoologist, Professor and University President
Enlarge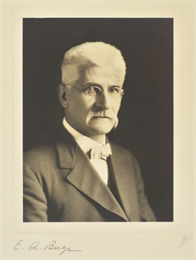 Edward Asahel Birge, 1914
Quarter-length portrait of Edward Asahel Birge, University of Wisconsin-Madison professor. View the original source document: WHI 60806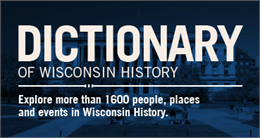 b. Troy, New York, 1851
d. Madison, Wisconsin, June 1950
Edward Asahel Birge was a zoologist, professor and university president. He graduated from Williams College with a B.A. in 1873 and an M.A. in 1876 and Harvard University with a Ph.D. in 1878. A student of the pre-eminent natural historian Louis Agassiz, Birge came to the University of Wisconsin in 1875. He became an instructor in natural history in 1879. He was professor of zoology from 1879 to 1911, and studied physiology at the University of Leipzig, Germany from 1880-1881. He was dean of the University of Wisconsin College of Letters and Science from 1891 to 1918, president from 1900 to 1903 and again from 1918 to 1925.
Biology
Birge promoted specialized fields in the biological sciences in his early years at the University. The department of biology had one professor in 1879. Birge helped develop four specialized biology departments by 1900. Led by Birge, the department of zoology introduced individual lab study for students, pre-medical courses and zoological research programs and techniques. Birge's own research on aquatic invertebrates led to the discovery of the thermal stratification of Lake Mendota and a new science of lake study known as limnology. Under Birge, Wisconsin became one of the foremost limnology research centers in the world.
Presidency
Birge spent years as a state fishery commisioner. He was director of the Wisconsin Geological and Natural History Survey from 1897 to 1915, an active member of the state conservation commission from 1908 to 1915 and the state forestry commission from 1905 to 1915. After 1900, his increasing administrative duties forced him to devote less time to individual research and zoology. From 1900 to 1903, he was president of the university during the absence of Charles K. Adams. After the death of university president Charles R. Van Hise in 1918, Birge was chosen as his successor. He remained president until he retired in 1925. Birge's administration was critized for not meeting the changing conditions of the post World War I era. But the administration's tact and conservatism coupled with the esteem Birge's colleagues held him in helped see the university through a difficult period of transition.
Later Life
Birge avoided public controversy, when possible. A notable exception occurred in 1921, when he was drawn into an argument with William Jennings Bryan on Darwinism and Fundamentalism. Picked up by the press and capitalized on by Bryan, the squabble brought considerable notoriety to Birge and the university. The controversy subsided after it became clear that Birge's position as university president was secure. Shortly before his retirement, Birge saw the completion of the Wisconsin General Hospital. The addition made a four year medical course possible. The first students enrolled in 1924. In 1925, Birge retired and was made president emeritus. He remained active in many civic and scientific organizations and continued his lake research until his death.
Learn More
See more images, essays, newspapers and records about Edward Asahel Birge.
Dictionary of Wisconsin History
Explore more than 1,600 people, places and events in Wisconsin history.
M. Curti and V. Carstensen, Univ. of Wis. (2 vols., Madison, 1949); Wis. Mag. Hist., 35; Madison Wis. State Journal, June 10, 1950; E. A. Birge Papers.