Historical Essay
Groseilliers, Medard Chouart, Sieur Des (1618-1696)
Fur Trader and Explorer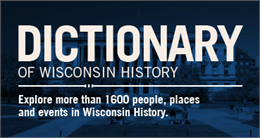 b. Charly-sur-Marne, France, 1618
d. Quebec, Canada, 1696
Médard Chouart des Groseilliers was fur trader and explorer, most famous for starting the Hudson Bay Company. He entered the service of the Jesuits, migrated to Canada around 1637, and spent several years in a Huron mission.
Fur Trade
Groseilliers was interested in the fur trade. He went to Three Rivers and teamed up with his brother-in-law, Pierre Esprit Radisson. His first western journey was made between around 1654 or 1656, followed by a second journey with Radisson in 1659. On the first voyage, Groseilliers explored the region around Green Bay. On the second journey, the explorers travelled the southern shores of Lake Superior.
French and English
They built a log hut on Chequamegon Bay near Whittlesey's Creek. The dwelling was the first white dwelling in Wisconsin. They visited Indian tribes in northern Wisconsin and eastern Minnesota, returned to Chequamegon Bay and built a small fort, probably at Houghton Point. They were successful in the fur trade, but angry that the French governor had confiscated their furs. Groseilliers and Radisson joined the English, who were competing with the French for control of the area. In 1668, Groseilliers succeeded in reaching the southern shore of Hudson Bay on behalf of the English. He realigned himself with French in 1674, but rejoined the English before his death.
Learn More
Médard Chouart des Groseilliers
See more images, essays, newspapers and records about Médard Chouart des Groseilliers.
Dictionary of Wisconsin History
Explore more than 1,600 people, places and events in Wisconsin history.
Dict. Amer. Biog.; G. D. Scull, ed., Voyages of P. E. Radisson (Boston, 1885); G. L. Nute, Caesars of the Wilderness (New York [1943]); Coils. Minn. Hist. Soc., 10 (1905); L. P. Kellogg, French Regime in Wis. . . . (Madison, 1925); Proc. and Trans. Royal Soc. of Canada, set. 2, 9 (1903).Dictionary of Wisconsin biography