Historical Essay
Ryan, Edward George 1810-1880
Lawyer, Politician and Judge
Enlarge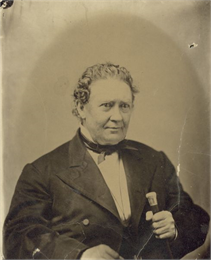 Edward George Ryan
Waist-up studio portrait of Edward George Ryan. View the original source document: WHI 24975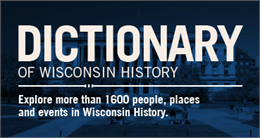 b. County Meath, Ireland, 1810
d. Madison, Wisconsin, October 1880
Edward George Ryan was a lawyer, politician and judge. He attended Clonggowes Wood College in Ireland. He migrated to the U.S. in 1830, and settled in New York. In 1836, he became a citizen, was admitted to the bar and moved to Chicago. He worked as a newspaper editor there from 1840 to 1842, practiced law and served briefly as state attorney.
Legal Career
He moved to Racine, Wisconsin in 1842. In 1846, he was a delegate to the first state constitutional convention, where he gained recognition as the author of the anti-banking article. In 1848, he moved his law practice to Milwaukee. In 1853, he served as special prosecutor in the impeachment trial of circuit judge Levi Hubbell. In 1855, Ryan prosecuted Sherman M. Booth for violating the Fugitive Slave Law. In 1856, he argued the case for Republican Coles Bashford in the contested Barstow-Bashford gubernatorial election. Ryan served as leader of the Democratic party in Wisconsin during the years from 1862 to 1863. He was critical of the Lincoln administration's actions in the Civil War and its violations of Constitutional liberties.
Politics
With the waning strength of the Democrats following the war, Ryan temporarily withdrew from political activities. He served as Milwaukee city attorney from 1870 to 1873. In 1873, he gained statewide attention for attacking state railroad policies. In June, 1874, he was appointed chief justice of the state supreme court by Democrat-Reform Governor William R. Taylor. The same year, he delivered his opinion upholding the validity of the Potter Act regulating Wisconsin railroad rates and fares.
Later Life
Although the Potter Act was soon repealed and coalition Governor Taylor defeated, Ryan held his position as chief justice until he died. His noted work on the high court bench concerned jurisdictional questions, federal-state relations and the conduct of the bar. Irascible and over-sensitive, Ryan was frequently at odds with his colleagues. But he was acknowledged one of the nation's leading jurists when he died.
Learn More
See more images, essays, newspapers and records about Edward George Ryan.
Dictionary of Wisconsin History
Explore more than 1,600 people, places and events in Wisconsin history.
Dict. Amer. Biog.; R. S. Hunt, Law and Locomotives (Madison, 1958); A. J. Beitzinger, Edward G. Ryan (Madison, 1960); J. B. Winslow, Story of a Great Court (Chicago, 1912); Wis. Law Review, July, 1955, Mar., 1956; Wis. Mag. Hist., 39; WPA MS; E. G. Ryan Papers.