Historical Essay
Mitchell, Alexander 1817-1887
Banker, Politician, Congressman and Railroad Promoter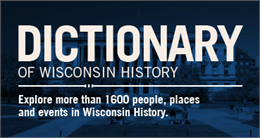 b. 1817, Aberdeenshire, Scotland
d. April, 1887, New York, New York
Alexander Mitchell was a banker, railroad promoter and executive, politician and Congressman. He migrated to the U.S. in 1839 to become secretary of the Wisconsin Marine and Fire Insurance Company in Milwaukee, which was founded by Chicago capitalist and fellow Scotsman George Smith. The company was chartered as an insurance business, but soon began to operate as a banking concern. Mitchell was involved in a series of disputes with the Wisconsin legislature for several years, but continued to evade attempts to revoke the company's charter.
Banking
The firm's certificates of deposit were widely circulated and helped stabilize the currency needs of the Northwest. In 1853, the Wisconsin free banking law was passed, and the company was reorganized as the Wisconsin Marine and Fire Insurance Company Bank. Mitchell acquired Smith's remaining share in the business in 1854. He was also the first president of the Wisconsin Bankers' Association in 1858. During the Civil War, he was credited with devising a system that saved many Wisconsin banks from failure.
Railroads
Although famous for banking and investment, Mitchell is mainly remembered as a railroad builder and executive. He was a promoter and stockholder in many of the early state railroad ventures, such as the Milwaukee and Mississippi and the La Crosse and Milwaukee R.R. In 1865, Mitchell became president of the virtually bankrupt Milwaukee and St. Paul Railway Company. Under Mitchell's leadership, the company eventually purchased the other lines. In 1866, the railroad comprised only about 270 miles of track. But by 1887, the Chicago, Milwaukee and St. Paul R.R. operated over 5,000 miles of track in seven states.
Politics
Mitchell was also active in state and national politics, especially following the Civil War. A Democrat, he was elected to Congress in 1870 and was re-elected in 1872. He was not a candidate for re-nomination in 1874, and in 1877 declined the Democratic nomination for governor. Through his wealth, railroad power and political connections, Mitchell was one of the most powerful figures in the Midwest. In 1874, he successfully defied the state Potter law that regulated railroad rates. Although the law was held constitutional by state Supreme Court justice E. G. Ryan, Mitchell worked out a compromise with state Railroad Commissioner George Paul, and Granger-Reform Governor William R. Taylor. The deal led to modification of rate regulation and the repeal of the Potter Act. Mitchell continued as president of the Chicago, Milwaukee and St. Paul R.R. until his death. He died while visiting in New York City.
Learn More
See more images, essays, newspapers and records about Alexander Mitchell.
Dictionary of Wisconsin History
Explore more than 1,600 people, places and events in Wisconsin history.
Dict. Amer. Biog.; A. Derleth, Milwaukee Road (New York, 1948); WPA MS.