News Release
Traveling Display Celebrating Wisconsin LGBTQ+ History Debuts at Wisconsin Historical Society
For Immediate Release (June 15, 2022)
Enlarge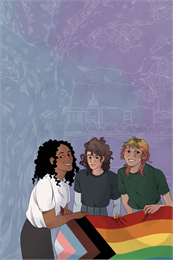 Madison, WI – The Wisconsin Historical Society is pleased to announce that a new display featuring the stories of some of the state's LGBTQ+ history-makers has debuted at its headquarters. "We Will Always Be Here: Wisconsin's LGBTQ+ Historymakers" centers on the stories of eight individuals across a wide spectrum of identities who helped to empower others to make a positive change in the world. The display includes ten panels featuring original artwork by nipinet landsem, a descendant of the Turtle Mountain Band of Chippewa and artist currently based in Madison.
"Although their stories have not always been told, the LGBTQ+ community in Wisconsin has a rich history," said nipinet landsem. "This display is about sharing some of these inspiring stories and celebrating individuals who embraced their own unique identities rather than conforming to others' expectations."
Beginning this month, the Wisconsin Historical Society will provide the display to schools, GSAFE programs, public libraries, historical societies and civic organizations across the state. The panels share stories using simple, graphic novel-inspired language and draw inspiration from the Wisconsin Historical Society Press title "We Will Always Be Here: A Guide to Exploring and Understanding the History of LGBTQ+ Activism in Wisconsin" by Jenny Kalvaitis and Kristen Whitson.
Three copies of the display are available to rent, subject to availability. Venues can rent "We Will Always Be Here: Wisconsin's LGBTQ+ Historymakers" for a fee of $100 with proceeds supporting the Society's ongoing outreach programs and activities. To reserve a copy, contact Kristen Leffelman by emailing travelingexhibits@wisconsinhistory.org or calling (414) 988-8655.
Click here to browse all of the Wisconsin Historical Society's traveling displays and explore more stories of Wisconsin's LGBTQ+ history this Pride Month.
About the Wisconsin Historical Society
The Wisconsin Historical Society, founded in 1846, ranks as one of the largest, most active and most diversified state historical societies in the nation. As both a state agency and a private membership organization, its mission is to help people connect to the past by collecting, preserving and sharing stories. The Wisconsin Historical Society serves millions of people every year through a wide range of sites, programs and services. For more information, visit www.wisconsinhistory.org.