Historical Essay
Weyerhaeuser, Frederick 1834-1914
Lumberman and Timber Mogul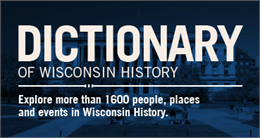 b. 1834, Niedersaulheim, Germany
d. April, 1914, Pasadena, California
Frederick Weyerhaeuser was a lumberman. He came to the U.S. in 1852, and settled in Erie County, Pennsylvania. He moved to Rock Island, Illinois in 1856 and worked for a lumber firm. In 1860, he purchased a Rock Island sawmill with his brother-in-law, F. C. A. Denckmann.
Logging
At first, the mill obtained its logs from jobbers along the Mississippi River. But Weyerhaeuser soon realized the advantages of an independent source of supply, and began to purchase extensive timber stands in the Chippewa valley in 1868. The Chippewa River mill owners wanted all timber from the area to be processed locally, but the Beef Slough Manufacturing, Booming, Log Driving and Transportation Company, had been rafting logs to the mills along the Mississippi. By 1870, the Beef Slough Company was nearky bankrupt due to the tactics of the local lumbermen. But Weyerhaeuser knew the importance of the company to his Rock Island mill. He persuaded a group of Mississippi River lumbermen to lease the boom and storage rights of the Beef Slough Company with him.
Dominance
The local mill owners and the Mississippi River Logging Company waged a war for control of the Chippewa valley timber for ten years. By 1880, the Weyerhaeuser syndicate had forced the Chippewa River lumbermen to negotiate. In 1881, the Chippewa Logging Company was organized. Dominated by the Weyerhaeuser group, the company handled the distribution of timber to all area mills.
Later Life
The syndicate gained control of the Chippewa Lumber and Boom Company in 1880, acquiring the Brunet mill at Chippewa Falls. The mill was rebuilt in 1886 and was the largest in the world. By 1900, with the timber stands of the Chippewa almost exhausted, Weyerhaeuser began to move his interests westward. In 1907, the American Immigration Company was organized to dispose of the land holdings in the Chippewa valley. By 1909, the original Mississippi River Logging Company, which had monopolized area timber for thirty years, was dissolved. Weyerhaeuser moved his operations to Minnesota and the Pacific coast and died in Pasadena in 1914.
Learn More
See more images, essays, newspapers and records about Frederick Weyerhaeuser.
Dictionary of Wisconsin History
Explore more than 1,600 people, places and events in Wisconsin history.
Amer. Lumbermen (3 ser., Chicago, 1905, 1906); R. F. Fries, Empire in Pine (Madison, 1951); Wis. Mag. Hist., 19; Who's Who in Amer., 6 (1910).