THE MENDOTA CANOES:


CONNECTING PAST & PRESENT

The Wisconsin Historical Society, in partnership with Wisconsin's Native Nations, is preserving a pair of historic dugout canoes recovered from Madison's Lake Mendota. Testing revealed the first canoe is 1,200 years old (800 A.D.) and the second 3,000 years old (1000 B.C.).

These significant artifacts, unnearthed by Society maritime archaeologist Tamara Thomsen, are being preserved for display at the future Wisconsin history center and other educational opportunities. They will help provide a more complete story of how the Ho-Chunk and other Native American ancestors lived in the area thousands of years ago while also connecting their traditions to the vibrant Tribal Nations of today.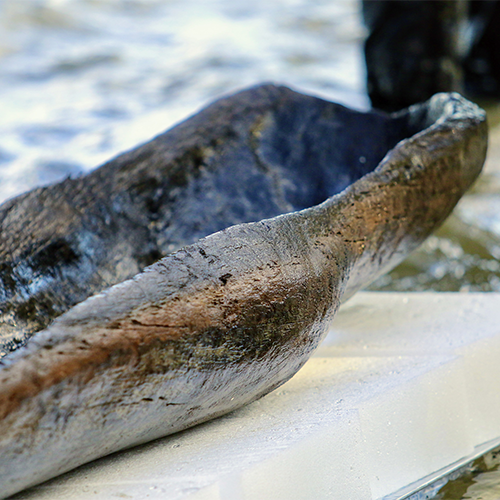 1,200-Year-Old Canoe
The 15-foot dugout canoe was recovered from Lake Mendota on Nov. 2, 2021. Dated to 800 A.D., it is the oldest fully intact vessel ever to be extracted from Wisconsin waters. It was also the first canoe found with artifacts on board – net sinkers used for fishing. News of the recovery spread on social media and made headlines across the world.
Learn More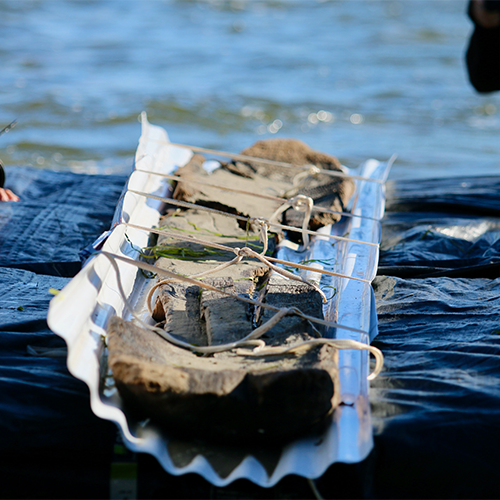 3,000-Year-Old Canoe
The 14.5-foot dugout canoe was recovered from Lake Mendota on Sept. 22, 2022. Dated to 1000 B.C., it is the oldest canoe ever found in the Great Lakes region by roughly 1,000 years. It was unnearthed within 100 yards of the 1,200-year-old canoe, prompting research into ancient shorelines and fluctuating water levels.
Learn More
"Every person that harvested and constructed this caašgegu (white oak) into a canoe put a piece of themselves into it. By preserving this canoe, we are honoring those that came before us."
— Marlon WhiteEagle, Ho-Chunk Nation President
Ho-Chunk Dugout Canoe Journey
June 2022
A group of Ho-Chunk youth and tribal members visited the State Archive Preservation Facility in Madison to view the 1,200-year-old canoe in its preservation tank. The group arrived via the Yahara River, paddling a new dugout canoe that they had carved from a cottonwood tree. The visit was part of a five-day paddling journey of the Four Lakes region that is so significant to Ho-Chunk history and culture.
"We are working alongside our tribal partners to protect a piece of history for future generations. We are excited about the possibilities the canoes offer to share Native American stories and culture through the present day."
— Christian Øverland, the Ruth & Hartley Barker Director & CEO of WHS
3,000-Year-Old Canoe
September 2022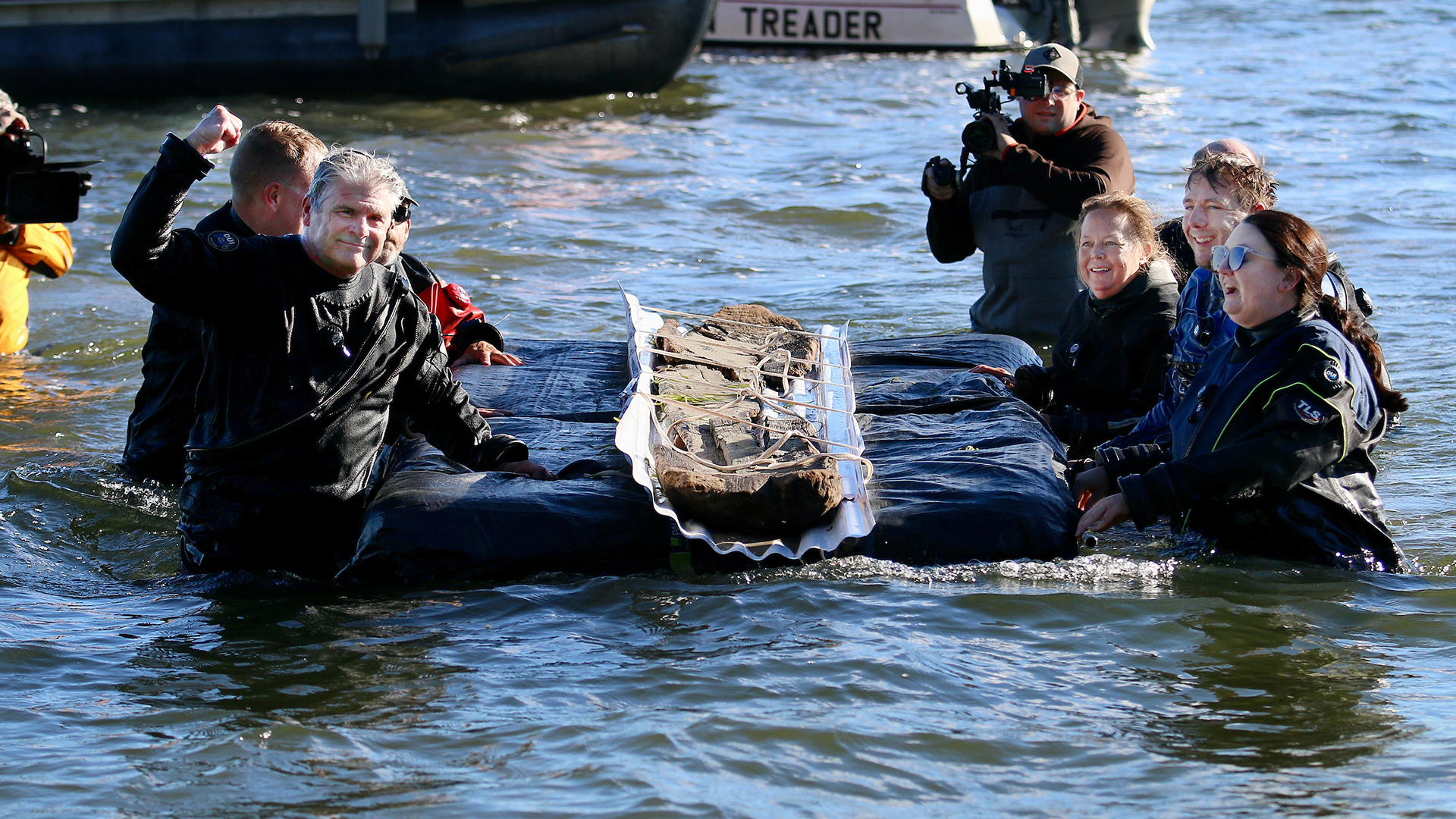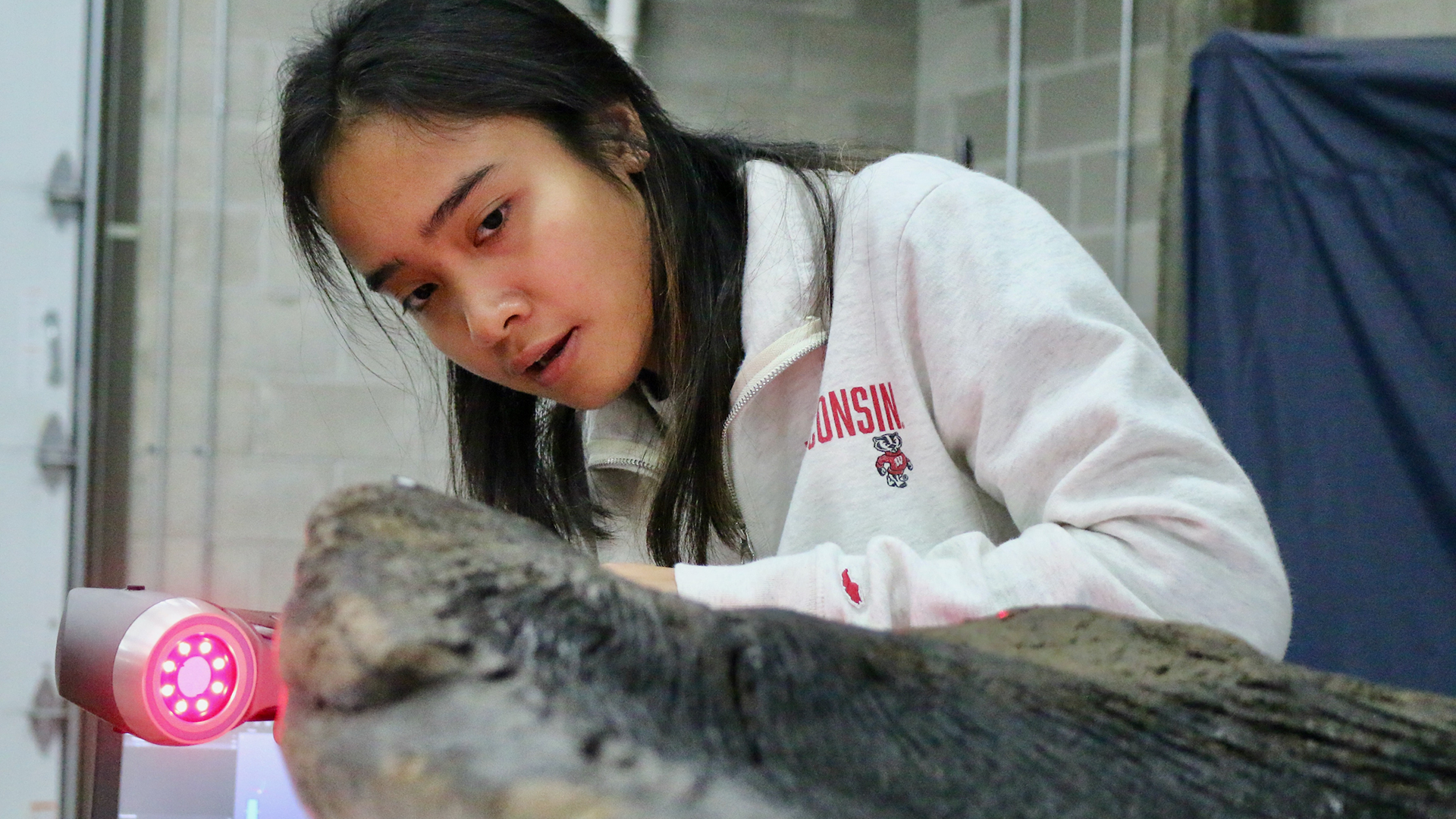 News Coverage of 3000 year old canoe
1,200-Year-Old Canoe Recovery
November 2021
News Coverage of 1200 year old canoe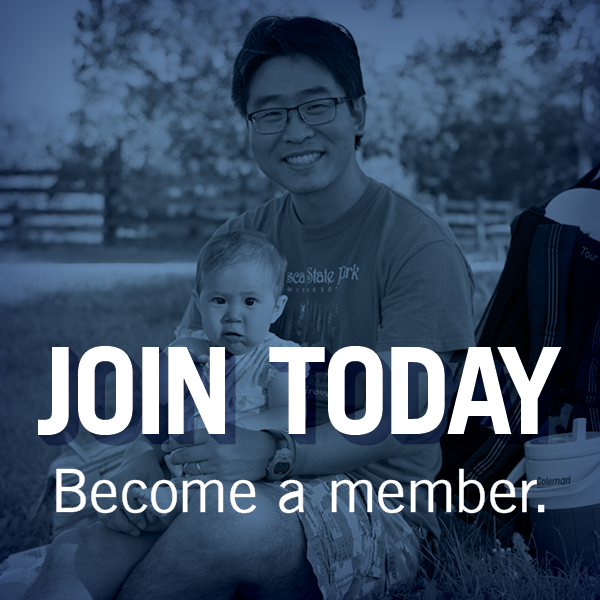 YOU CAN HELP!
Help the Wisconsin Historical Society preserve and share the stories of these significant cultural artifacts.
---
THANK YOU!
The Wisconsin Historical Society would like to thank the many partners who helped in the recovery of these important artifacts. A special thank you to leaders of the Ho-Chunk, Bad River Ojibwe, and other Native Nations, whose support and partnership throughout this recovery and preservation effort have been invaluable.
We look forward to continued collaboration throughout the ongoing process. Also, we're grateful to the Dane County Sheriff's Department dive team and other volunteers who lent their expertise and equipment and were essential to the successful recovery of the canoes.
Remembering Dr. James Skibo
Wisconsin State Archaeologist, Dr. James Skibo, led the team that worked in close coordination with Wisconsin's Native Nations on the historic recovery of these canoes. Skibo passed away on April 14, 2023, while on a routine work-up dive preparing for the maritime archaeology season. We were honored to have him join the Wisconsin Historical Society in 2021 and grateful for his leadership on this effort and many others. Read more about the life and lasting legacy of Dr. James Skibo, the People's Archaeologist.
Read the In Memoriam