Historical Essay
Kohler, Walter Jodok 1875-1940
Politician and Industrialist
Enlarge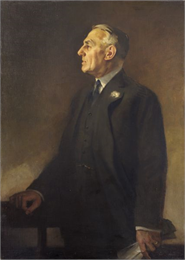 Walter J. Kohler, 1941
A painted portrait of Walter Jodok Kohler completed after his death. View the original source document: WHI 100155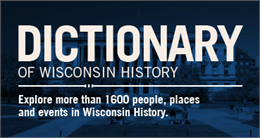 b. Sheboygan, Wisconsin, 1875
d. Milwaukee, Wisconsin, April, 1940
Walter Jodok Koher was an industrialist, politician and governor. He was the son of J. M. Kohler. In 1890, he went to work in the enameling department of his father's farm implement firm.
The Kohler Company
When his father died in 1900, Kohler and his two brothers, Carl and Robert, began managing the firm. When Robert died in 1905, Walter Jodok Kohler became president. He served as president from 1905 to 1937. The firm changed its name to "The Kohler Company" in 1912. Under Walter J. Kohler's direction, the company became one of the largest of its kind in the nation. The company pioneered the production of plumbing equipment and the manufacture of vitreous china and enamelware.
University of Wisconsin
Kohler was also chairman of the board of the Vollrath Company and an officer of the Security National Bank of Sheboygan. He was national vice-president and director of the National Association of Manufacturers, a director of the Wisconsin Manufacturers Association, a trustee of Lawrence College and a regent of the University of Wisconsin from 1918 to 1924. He built Kohler Village near Sheboygan as a model industrial community for his employees in 1912.
Strike
Kohler was often the target for bitter criticism by progressives and labor groups because of his "paternalism" and opposition to trade unionism. In 1934, when his employees attempted to organize under the American Federation of Labor, Kohler refused to bargain. A violent strike occurred on July 27 that brought nationwide notoriety — two people were killed, 47 wounded.
Governor
A conservative Republican, Kohler was a delegate at large to the party's national convention in 1928. The same year, the Progressive faction of the Republican Part split, and Kohler received the Republican nomination for governor.
Politics
The Progressives, headed by Philip and Robert M. La Follette, Jr., challenged the nomination. They claimed that Kohler had violated the state corrupt practices act. However, the state supreme court upheld the nomination. Kohler was elected in the November election, and served one term. He was defeated for the Republican gubernatorial nomination by Philip La Follette in 1930. Kohler was successful in his bid for the nomination in 1932, but lost the general election to Democrat Albert Schmedeman. He was considered as a possible Republican presidential candidate in 1936. But the continued labor difficulties at Kohler's plant ended his career as a candidate for public office. Kohler remained on the board of directors of the Kohler Company until his death.
Learn More
See more images, essays, newspapers and records about Walter Jodok Kohler.
Dictionary of Wisconsin History
Explore more than 1,600 people, places and events in Wisconsin history.
Dict. Amer. Biog., Suppl. 2; Who Was Who in Amer. (1934); Wis. Blue Book (1929); Madison Wis. State Journal, Apr. 22, 1940; N.Y. Times, Apr. 22, 1940.