News Release
Wisconsin Historical Society Shares Preliminary Rendering of New History Center
For Immediate Release (March 24, 2023)
Enlarge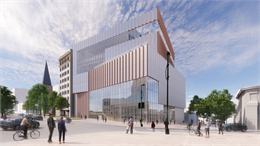 Wisconsin residents invited to attend a series of virtual discussions on the project
Madison, WI - The Wisconsin Historical Society is excited to share a preliminary architectural rendering of Wisconsin's new history center as design on the project accelerates. Designed to be a welcoming beacon of inspiration and exploration, the new center set on Wisconsin's Capitol Square in Madison will reflect a modern approach to sharing history.
"As the Wisconsin Historical Society's new front door, the history center will be a hub of engagement and reflection, a place that draws people in and invites them to delve into the stories behind the state's history and culture in ways that have never before been offered," said Christian Øverland, the Ruth & Hartley Barker Director and CEO of the Wisconsin Historical Society. "This is a building that sets the stage for activity, exploration and shared connection. When you walk out of this space, we hope you are inspired and look at the world differently."
Stewarded by the Wisconsin Historical Society in partnership with a world-class architectural and design team of Continuum Architects in association with SmithGroup and Ralph Appelbaum Associates, the five-story building with stacked terraces will offer unforgettable views in all directions and more than double the exhibition space of the current museum.
The rotated building form looks beyond Madison to physically and symbolically connect with all of Wisconsin—an extension of a museum experience that will center the voices of communities across the state and widen what is known about Wisconsin and North American history. The lenticular façade gives the building depth and movement, revealing new perspectives as your vantage point changes. The building's materials, while not finalized, will be a celebration of local materials, drawing from Wisconsin's rich history of craftsmanship, industry and innovation.
"This faceted and layered façade symbolizes that history is complex, dimensional and told from multiple perspectives," said Monteil Crawley, principal at SmithGroup and lead designer for Wisconsin's history center. "The architectural design is bold and dynamic yet very intentionally welcoming and comfortable for all guests. It will be an engaging and enlivening place for the community to gather and a landmark destination for visitors."
SmithGroup's cultural practice features an extensive portfolio of award-winning architectural projects within Wisconsin and around the globe, including the Smithsonian Institute's National Museum of the American Indian and the National Museum of African American History and Culture in Washington, D.C., where they worked in successful collaboration with exhibition designers Ralph Appelbaum Associates.
"We're energized by the progress and the purpose behind the architectural design, and appreciative of the incredible public and private support for this project," said Wes Mosman Block, deputy director and chief operating officer of the Wisconsin Historical Society. "A full interior and exterior design reveal is coming this summer and, in the meantime, we look forward to sharing more about the project, answering questions and hearing public perspectives at our upcoming virtual discussion series."
The public is invited to learn more by attending "History Happens Here: Discussing Wisconsin's New History Center," a three-part series of virtual conversations, the first of which will be held at 6 p.m. on April 12. Society leadership will share project updates and answer questions.
For the latest updates on the new history center or to register for the virtual discussion series, visit wisconsinhistory.org/historycenter.
About the Wisconsin Historical Society
The Wisconsin Historical Society, founded in 1846, ranks as one of the largest, most active and most diversified state historical societies in the nation. As both a state agency and a private membership organization, its mission is to help people connect to the past by collecting, preserving and sharing stories. The Wisconsin Historical Society serves millions of people every year through a wide range of sites, programs and services. The Wisconsin Historical Foundation, a 501(c)(3) tax exempt organization, receives grants and private contributions benefitting the Wisconsin Historical Society and administers the membership program. For more information, visit www.wisconsinhistory.org.
About SmithGroup
SmithGroup(www.smithgroup.com) is one of the world's preeminent integrated design firms. Working across a network of 19 offices in the U.S. and China, a team of 1,300 experts is committed to excellence in strategy, design, and delivery. The scale of the firm's thinking and organization produces partnerships with forward-looking clients that maximize opportunities, minimize risk and solve their most complex problems. SmithGroup creates exceptional design solutions for healthcare, science and technology organizations, higher education and cultural institutions, urban environments, diverse workplaces, mixed-use and waterfront developments, and parks and open spaces.
About Continuum Architects + Planners
Established in 1996, Continuum Architects + Planners' is a highly technical and creative team of experienced professionals offering interactive planning and programming, inspired architectural and interior design, comprehensive project management, strategic sustainable design, detailed historic consulting and rehab, and valuable technology as part of our in-house services. A recipient of more than 60 awards, Continuum designs diverse building types in an array of markets, including higher education, commercial, residential, federal, and civic in the state of Wisconsin. They have completed 50 projects for the state of Wisconsin including: The University of Wisconsin Madison Chazen Museum of Art and currently the new Engineering Building. Most recent projects include UWM's School of Freshwater Sciences and the Lubar Entrepreneurship Center.
About Ralph Appelbaum Associates
Ralph Appelbaum Associates (RAA) is the world's largest practice dedicated to the planning and design of museums and narrative environments. Past and current projects—over 850 commissions in 52 countries—include many of the world's most recognizable cultural attractions. More than 75 million people encounter their work every year. Headquartered in New York, with branch offices in London, Berlin, and Beijing, RAA's international studios are diverse and interdisciplinary: drawing together designers, architects, artists, historians, educators, media-makers, technologists, writers, and poets that are passionate about encouraging a mindful connection to the world around us. They use the tools of storytelling, design, theater, media and interactive technology, and the narrative power of architecture, to communicate big ideas that convey the history, core values, and key messages of their clients. They strive for the optimum balance between sustainability, value, design, and experiential quality and believe that connective and transformative experiences in public spaces are essential for individuals, communities, cities, and nations—now more than ever.