Historical Essay
Grignon, Augustin (1780-1860)
Fur Trader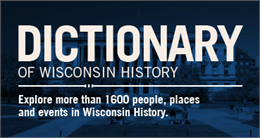 b. Green Bay, Wisconsin 1780
d. Butte des Morts, Wisconsin 1860
The third son of Pierre Grignon, Sr., and Domitelle Langlade Grignon. When his father died, Augustin and his brother, Pierre, Jr., continued the operation of the Green Bay store and traded during the winters. About 1805 Augustin married Nancy McCrea, daughter of a Montreal trader and a Menominee Indian woman, and through his wife's tribal inheritance and a purchase from Paul Ducharme in 1813, he acquired an estate of 1,520 acres north of the rapids at Kaukauna. Here he made his home from about 1805 to 1834, trading and farming. In 1820-1821 he and Pierre, Jr., built a flourmill and gristmill at Kaukauna. In 1836 at the Treaty of the Cedars, Augustin Grignon and his eldest son, Charles Augustin Grignon, secured payment of $16,000 owed them by the Menominee tribe. In 1834 Augustin transferred his Kaukauna land holdings to his sons, and from about that time until his death lived at Butte des Morts. There, in 1857, Lyman C. Draper (q.v.) transcribed Augustin's recollections, a highly valuable source of early Wisconsin history. Colls. State Hist. Soc. Wis., 3 (1857), 20 (1911), (see also index vol. 21); Proc. State Hist. Soc. Wis., 1913 (1914); L. P. Kellogg, French Regime in Wis. . . . (Madison, 1925); L. P. Kellogg, British Regime in Wis. . . . (Madison, 1935); Commem. Biog. Record of the Fox River Valley (Chicago, 1895); H. B. Tanner, Hist. of Streets of Kaukauna (Kaukauna [1931]); WPA MS.
Learn More
See more images, essays, newspapers and records about the Augustin, Grignon.

Dictionary of Wisconsin History
Explore more than 1,600 people, places and events in Wisconsin history.