Historical Essay
Milwaukee Handicraft Project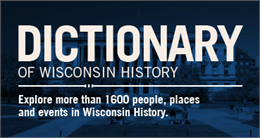 The Milwaukee Handicraft Project was a program of the Work Projects Administration (WPA) that employed female heads of households in a racially integrated workspace to make beautiful handmade products. Its goal was to design objects that unskilled women could make using inexpensive materials. Between 1935 and 1943, the MHP trained African American residents of Milwaukee to produce art such as rugs, baskets, quilts, book-bindings, costumes, draperies, toys, and games. Their work was sold at cost to educational and tax-supported institutions such as the Milwaukee Public Schools.
View more information and examples of MHP work at our Curators' Favorites pages; the 1939 product catalog is also online at Turning Points in Wisconsin History.
Learn More
See more images, essays, newspapers and records about the Milwaukee Handicraft Project.

Dictionary of Wisconsin History
Explore more than 1,600 people, places and events in Wisconsin history.