Historical Essay
Bridges in Wisconsin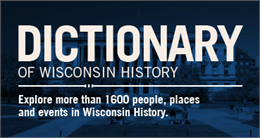 The date when the first bridge was constructed in Wisconsin is not easily determined. In many communities, early 19th-c. pioneers constructed bridges of wood, which was readily available and easily worked. During the second half of the 19th century, however, metal trusses of cast iron replaced nearly all the older wooden bridges. Metal truss bridges began, themselves, to be eclipsed in the early 20th century by concrete bridges. Because bridges often formed the most prominent public entry way into a community, and because during the 20th century the federal government began to insist on modern safety standards, many of Wisconsin's historic bridges have been destroyed.
Learn More
See more images, essays, newspapers and records about bridges in Wisconsin.

Dictionary of Wisconsin History
Explore more than 1,600 people, places and events in Wisconsin history.
[Source: Wyatt, Barbara. Cultural resource management in Wisconsin: a manual for historic properties(Madison: Historic Preservation Division, State Historical Society of Wisconsin, c1986).]