Historical Essay
Fox and Wisconsin River Improvement Company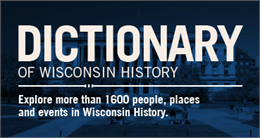 As early as 1829 the subject of building a canal and improving the Fox and Wisconsin rivers to make navigable waters from Lake Michigan to the Mississippi river was agitated. In 1839 Congress made a survey; in 1846 it made a grant of land. When the state was admitted in 1848 the grant was accepted and a board of public works was appointed. Work begun, contracts being let for different sections of it. Dredges were in operation on the Upper Fox river; a canal with locks was constructed between the rivers at Portage.
Then the work languished as the sales of the lands granted fell off. In 1851, Morgan L. Martin of Green Bay made a proposition to continue the work, and accept the receipts for the sales of land as made, and take certificates of indebtedness for the balances due with interest at 12 per cent. When L. J. Farwell became governor he refused to issue certificates for the work. In 1853 Governor Farwell advised that, as the enterprise was in a hopeless state financially, it be incorporated as the Fox and Wisconsin River Improvement Company. This was done. In 1854 Congress made an additional land grant to aid the work. In 1856 the company had to reconstruct a portion of the work already done, but capital was scarce; and a little later eastern capitalists bought the enterprise and re-organized it as the Green Bay & Mississippi River Canal company. The next move was to sell out the entire enterprise, which had begun as a state venture, to the Federal government. In all 680,000 acres of land and two million dollars in money had been put into the enterprise with little to show for it except the few miles of canal at Portage and the improvements on the Lower Fox. The Federal government has latterly confined all its work to the Lower Fox river, and the trans-state waterway scheme has been abandoned.
Learn More
Fox and Wisconsin River Improvement in Wisconsin
See more images, essays, newspapers and records about the Fox and Wisconsin River Improvement in Wisconsin.

Dictionary of Wisconsin History
Explore more than 1,600 people, places and events in Wisconsin history.
[Source: Wisconsin: comprising sketches of counties, towns, events, institutions, and persons, arranged in cyclopedic form, ed. by Ex-Gov. Geo. W. Peck (Madison, Wis., Western Historical Association, 1906).]