Historical Essay
Underground Railroad in Wisconsin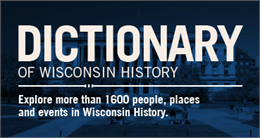 Because its participants intentionally concealed their work, details of how fugitive slaves passed through Wisconsin are sparse. The earliest escape of which we have record is that of Caroline Quarlls (q.v.), who arrived in Milwaukee in early August 1842 and was hidden by sympathetic allies in that city, Waukesha, and Pewaukee; in late summer she was conveyed to Racine County and, ultimately, around Chicago, through Indiana, across Michigan, and into Canada. The most famous incident was the liberation of Joshua Glover (q.v.) in March 1854 from a Milwaukee jail; he was conveyed out of the city by much the same route but boarded a steamer in Racine and landed in Canada. But Glover and Quarlls are only the two most famous people conducted along Wisconsin's underground railroad network.
Also in 1854, an unnamed father and two children passed through Chilton to find safety among the Stockbridge Indians; after repulsing their pursuers, the Stockbridge got them safely to Green Bay and thence by ship to Canada. About 1855, Rev. R.L. Cheney of Janesville assisted a family escaping northward on the road from Beloit; he saw them to Racine, where they embarked safely by steamer for Canada. At the outbreak of the Civil War, three escaping families were harbored in Beloit, and remained there after the war. In early 1861 Janesville citizens rallied to drive away a slave-catcher who had tracked down one of their city's residents.
A.P. Dutton and Maximillian Heck of Racine later recalled (Siebert Collection) that between 1854 and 1861 a number of that city's residents conspired to help fugitive slaves board steamers bound for Ontario, often taking up collections to cover their expenses. They recalled that most of their "passengers" came up the Illinois River to Chicago and then overland along the shore to Kenosha, Racine, or Milwaukee. Others came up the Rock River to Beloit; then to Janesville, where the Tallman House was a well-known refuge; then to Milton, where the Milton House was another safe-house; and finally across the prairie to one of the lake ports, where several ship captains were willing to conduct the fugitives to Canadian cities. Dutton estimated that more than 100 went by boat from Racine alone, in the years before the Civil War.
View more information in our entry on slavery at wisconsinhistory.org.
Learn More
See more images, essays, newspapers and records about the Underground Railroad in Wisconsin.

Dictionary of Wisconsin History
Explore more than 1,600 people, places and events in Wisconsin history.
[Source: Olin, Chauncey. A Complete Record of the John Olin Family (Indianapolis, 1893); Wilbur H. Siebert Collection (Columbus: Ohio Historical Society), reel 15; Davidson, J. N. Negro Slavery in Wisconsin and the Underground Railroad(Milwaukee, 1897).]