Historical Essay
Davis, Jefferson (in Wisconsin)
Confederacy President's Experience in Wisconsin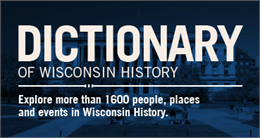 Jefferson Davis, future president of the Confederacy, served on military duty in Wisconsin several times between 1828 and 1832. After graduating from West Point in 1828, Davis was assigned to the 1st Infantry and stationed at Fort Crawford in Prairie du Chien. His first assignment, in 1829, was to supervise timber cutting on the banks of the Red Cedar River, a tributary of the Chippewa River in northwestern Wisconsin, for repairing and enlarging the fort.

He was reassigned to Fort Winnebago at Portage later that year. In 1831, while supervising the construction and management of a sawmill on the Yellow River, another Chippewa River tributary, he contracted pneumonia and returned to Fort Crawford. In 1832, Davis was dispatched to Galena, Illinois. He led a detachment assigned to remove miners from lands claimed by Native Americans.
Service in the Black Hawk War
Davis's first combat assignment was during the Black Hawk War of 1832. There is no evidence, however, that Davis actually fought in any of the engagements of the Black Hawk War. At the end of the war, Davis was assigned to escort Black Hawk himself to prison at Jefferson Barracks in St. Louis. Black Hawk described the journey in his autobiography. In 1833, Davis was promoted to First Lieutenant. A year later, in 1834, he was transferred to Fort Gibson, in Oklahoma.
Marriage
While in Wisconsin, Davis fell in love with the teenage daughter of his commander, Col. Zachary Taylor. In 1835, he resigned his commission in order to marry her.
Learn More
See more images, essays, newspapers and records about Jefferson Davis.
Dictionary of Wisconsin History
Explore more than 1,600 people, places and events in Wisconsin history.