Historical Essay
Capitol Buildings in Wisconsin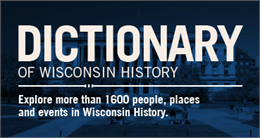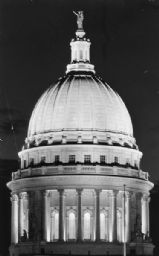 Night view of the Wisconsin State Capitol dome, 1970 (WHi-35429)
Wisconsin got its first capitol in 1836 when it became a U.S. territory. This capitol was located in Belmont in the lead region of southwest Wisconsin. The Belmont building is now a historic site operated by the Wisconsin Historical Society.

After Madison was selected as the territorial capital, a second capitol was built in Madison in 1837-1838. Lawmakers met temporarily in Burlington, Iowa, during its construction. The second capitol was in use from 1838 to 1858.

A third capitol was constructed in Madison in 1859-69. It was occupied from 1859 to 1904. In 1904, a fire destroyed this third capitol building.

The fourth capitol is the building still in use today. It was built between 1909 and 1917.
Learn More
Capitol buildings in Wisconsin
See more images, essays, newspapers and records about capitol buildings in Wisconsin.

Dictionary of Wisconsin History
Explore more than 1,600 people, places and events in Wisconsin history.