Historical Essay
Third Ward fire (Milwaukee, 1892)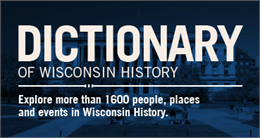 This blaze on Oct. 28, 1892, wiped out sixteen square blocks, burned 410 buildings, 215 freight cars and took five lives. Dozens more were injured, 2000 made homeless and the property loss was estimated at $84,500,000.
The fire broke shortly before six o'clock on the afternoon of October 28, 1892, in the Union Oil Company's warehouse. About 7:00 p.m. the fire was reported under control, but shortly thereafter an explosion in a furniture factory nearby caused flames that shot into the skies, and with a strong gale underway the fire soon covered a large portion of Milwaukee's warehouse district. Fearing a disaster like the Chicago fire of two decades before, Chief James Foley wired Chicago, Racine, Oshkosh, Kenosha, and Sheboygan for assistance. There was a gale in Chicago too, but Marshall Dennis Swenie remembered "how Milwaukee Engine 4, Capt. James Foley, had worked alongside of Chicago Engine 11, Capt. Dennis Swenie, near the Kinzie St. bridge in the Chicago blaze of 1871. Compliments must be returned." Four engines were loaded on flat cars in the North Western yards at Chicago and sent to Milwaukee. Oshkosh, Kenosha and Sheboygan also responded and with this outside help the fire was brought under control.
View more information elsewhere at wisconsinhistory.org
WHS library reference file prepared by Margaret Gleason.
Learn More
See more images, essays, newspapers and records about the Third Ward Fire.

Dictionary of Wisconsin History
Explore more than 1,600 people, places and events in Wisconsin history.