Historical Essay
Ellis, Albert Gallatin (1800-1885)
Teacher, Newspaperman and Politician
Enlarge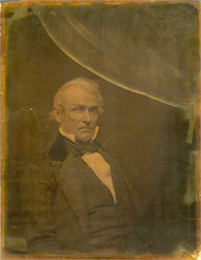 Albert Gallatin Ellis
Waist-up portrait of Albert Gallatin Ellis of Stevens Point, Wisconsin. He was the first editor of "The Green Bay Intelligencer," the first Wisconsin newspaper. View the original source document: WHI 116029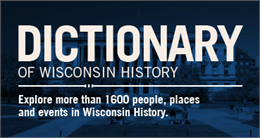 b. Verona, New York, 1800
d. December, 1885
Albert Gallatin Ellis was a teacher, newspaperman and politician. Under the auspices of the Protestant Episcopal missionary society, he moved to Green Bay with a group of Oneida Indians to establish a colony and school.
Newspaper
He was involved in the venture until 1828. From 1828 to 1833, he served as deputy surveyor of government lands. In 1833, in partnership with John V. Suydam, he published the first newspaper west of Lake Michigan, the "Green Bay Intelligencer." Ellis published the paper alone from 1834 to 1835, and with C. P. Arndt from 1835 to 1836.
Politics
A Democrat, he served in the territorial lower house in 1836 and again from 1841 to 1844. Ellis also served as surveyor general of the Wisconsin and Iowa district from 1837 to 1841. In 1852, he moved to Stevens Point where he was receiver of the land office from 1853 to 1862 and published the Wisconsin Pinery from 1853 to 1859. He was mayor of Stevens Point for several years, edited the Stevens Point Wisconsin Eagle from 1874 to 1885 and wrote numerous biographical and historical essays on Wisconsin history.
Learn More
See more images, essays, newspapers and records about Albert Gallatin Ellis.
Dictionary of Wisconsin History
Explore more than 1,600 people, places and events in Wisconsin history.
[Sources: Coils. State Hist. Soc. Wis., 7 (1876); Columbian Biog. Dict. Wis. (Chicago, 1895); Hist. of Portage Co. (2 vols., Chicago, 1919); Stevens Point Wis. Pinery, Dec. 24, 1885; D. E. Oehlerts, comp., Guide to Wis. Newspapers (Madison, 1958); WPA MS. Dictionary of Wisconsin biography]