Historical Essay
Lady Elgin (shipwreck, 1860)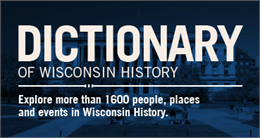 The evening of Sept. 7, 1860, the sidewheel steamer, Lady Elgin, bearing about 300 Milwaukeeans who had taken advantage of an excursion rate of $1 for the round trip from Milwaukee to Chicago, put out from Chicago in the face of a threatening storm. At 2:30 on the morning of September 8, 1860, at a point some ten miles out from Waukegan, Ill., the schooner Augusta collided with the Lady Elgin. The Lady Elgin was not immediately aware of the extent of the damage and signaled the Augusta that no assistance was needed. But about half an hour after the collision the boilers and engine broke through the bottom of the boat and it began to go to pieces rapidly. In a few minutes all the passengers were struggling in the water. Many of them succeeded in seizing pieces of the wreckage and floated toward shore.
A large piece of the hurricane deck held together, and on it Captain Wilson gathered about 50 persons; near shore this raft hit a sandbar and most of the passengers, including the captain, drowned. Many of the survivors managed to get near land, but at the point where the waves broke on the shore they were often carried back by the undertow and drowned. Only about thirty persons came through the breakers alive, and of that number a young Northwestern University student, Edward W. Spencer, saved 17. For days the wreckage and bodies drifted to shore and more than one news story reported how a particular victim floated onto his own property, miles from the disaster scene.
WHS Library reference file
Learn More
See more images, essays, newspapers and records about shipwrecks.

Dictionary of Wisconsin History
Explore more than 1,600 people, places and events in Wisconsin history.