Historical Essay
Blizzard of 1881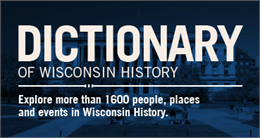 Also called the "Big Snow of '81." For years afterward, many of the state's residents dated subsequent events from "the year of the big snow." A light rain turned to snow on Saturday, February 26, 1881, and was followed by two blizzards over the next seven days. All rail and road traffic stopped, people reported digging tunnels out of their front doors, and snow shoveled from sidewalks filled city streets nearly to the second story of adjacent buildings. A Watertown paper reported that "all communication with the outside world has been entirely cut off. Rubber boots and shoes are not to be had in the city, all shoe dealers having sold out....Masses of snow are everywhere, some of it in piles ten to sixteen feet high, thirty feet wide and sometimes one to two hundred feet long which the wind has blown together." C. T. Wettstein of Milwaukee was a passenger on a train stalled between Port Washington and Milwaukee. During the trip, which took four days, he confided to his diary: "Find 8 cases of eggs in express car; are confiscated to keep us from starving... Find two tin pails, melt snow and boil eggs. Coffee man has samples of tea. Serve same in tin cup... at 2 p.m. (Sunday) engine moved two feet - so much nearer Milwaukee! Monday, 1 p.m. train moves ahead a mile. Tuesday, 8 a.m., a third night behind us. Train moves 3 miles. Reach Mequon station... Wednesday... reach Milwaukee."
View more information at wisconsinhistory.org
WHS Library reference file
Learn More
See more images, essays, newspapers and records about the Blizzard of 1881.

Dictionary of Wisconsin History
Explore more than 1,600 people, places and events in Wisconsin history.