Historical Essay
Civil War Draft Riots in Wisconsin, 1862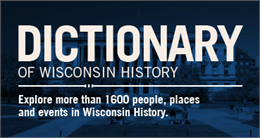 In 1862, President Abraham Lincoln established the military draft for the Civil War. It was unpopular in many German communities around Wisconsin. Many Germans had left their homeland to escape compulsory military service. Anti-draft riots broke out in several cities. On November 10, 1862, a mob of roughly 300 attacked the Port Washington draft office and vandalized the homes of Union supporters until troops arrived to quell the disturbance. The same week, a mob of protesters shut down the draft proceedings in Milwaukee, and in West Bend the draft commissioner was beaten bloody and chased from the scene.

Related Resources
"Resistance to the Draft in Wisconsin" Milwaukee Pilot, (newspaper), Nov. 12, 1862; Oliver, John W. "Draft Riots in Wisconsin During the Civil War" Wisconsin Magazine of History: Vol. 2, No. 3, March 1919: 334-337.
Learn More
See more images, essays, newspapers and records about the Civil War draft riots.

Dictionary of Wisconsin History
Explore more than 1,600 people, places and events in Wisconsin history.