Historical Essay
Tanning and Leather Processing in Wisconsin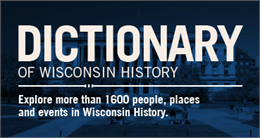 Leather tanning consists of treating animal skins with natural or synthetic chemical agents to preserve and toughen them. The earliest tanning manufacturer opened in Wisconsin in 1842 and remained an important growth industry until the 1920s.
At its peak around 1900, Wisconsin's tanning industry was producing about 15 percent of the nation's raw leather. Wisconsin's abundant forests proved ideal territory for the development of the tanning industry in the 19th century which relied on tanning agents derived from tree bark. Leather tanneries were located along streams or lakes to take advantage of the water needed to process hides. Unfortunately, the byproducts of tanning had a detrimental effect on the environment, polluting waterways and producing harmful odors. The early tanning industry served primarily individual and local communities but with rising competition from urban factories in the late 19th century, many of the local shops were displaced. From the beginning, the industry was concentrated in Kenosha, Racine, Fond du Lac, Manitowoc/Two Rivers, and Milwaukee, regions that provided the best economic and environmental conditions for growth. The most growth occured in the 1840s when Guido Pfister and Fred Vogel set up operations in Milwaukee, creating a business that emerged as the state's leading manufacturer of leather.
The industry exploded during the Civil War when Wisconsin firms were called on to provide shoes, harnesses, and equipment for soldiers. Milwaukee quickly became the unchallenged leader in the state, surpassing all other midwestern communities in the number of firms and production. While most hides were destined for the manufacture of harnesses, linings, bindings, and sole leather, boots and shoes utilized a large portion of the Wisconsin product as well. Increasing demands for product put considerable amounts of pressure on smaller tanners and led to industry consolidation and centralization to meet the needs of consumers. By 1910, Milwaukee had become the world's largest leather manufacturing center. Increasing competition from abroad, however, led to the industry's decline in the U.S. and by the end of the 1930s, only the strongest firms remained in production. Milwaukee remains prominent in leather production but tanning plays only a minor role overall in local economies.
Wisconsin's Cultural Resources Study Units, Wisconsin Historical Society
Learn More
Tanning and Leather Processing
See more images, essays, newspapers and records about the tanning and processing industry in Wisconsin.

Dictionary of Wisconsin History
Explore more than 1,600 people, places and events in Wisconsin history.