Historical Essay
Bank Riot of 1861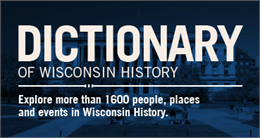 In 1861, owing to the failure of banks as a result of the loss on southern state bonds made worthless by the war, much ill feeling against the banks of Milwaukee was engendered. A mob formed June 21, 1861, for the purpose of attacking the banks. A German named Anton Thormaehlen, who was mistaken for Alexander Mitchell, the banker, was attacked and severely beaten. The Marine (Mitchell's) bank was visited by the mob, but it was driven off. The state bank building opposite was attacked and wrecked. The mob was finally dispersed by troops, and by the throwing of water on them by the fire department.
Wisconsin: comprising sketches of counties, towns, events, institutions, and persons, arranged in cyclopedic form, ed. by Ex-Gov. Geo. W. Peck (Madison, Wis., Western Historical Association, 1906).
Learn More
See more images, essays, newspapers and records about the 1861 Bank Riot in Wisconsin.

Dictionary of Wisconsin History
Explore more than 1,600 people, places and events in Wisconsin history.