Historical Essay
Swiss in Wisconsin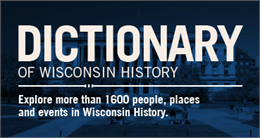 Although the Swiss arrived in Wisconsin throughout the 19th century, the most significant period of immigration occured before 1870. Between 1850 and 1860, the Swiss population tripled from 1,244 to 4,722. In 1870, there were 6, 069. The number of Swiss peaked in 1910 at 8,036. Most settled in small towns although a sizable Swiss neighborhood did exist in Milwaukee. Dane, Rock, Iowa, and Lafayette counties were known as the heartland of Swiss settlement in Wisconsin and bore the nickname "Swissconsin."
Wisconsin's Cultural Resource Study Units, Wisconsin Historical Society
Learn More
See more images, essays, newspapers and records about the Swiss in Wisconsin.

Dictionary of Wisconsin History
Explore more than 1,600 people, places and events in Wisconsin history.