Historical Essay
2nd Wisconsin Infantry History
Wisconsin Civil War Regiment
Enlarge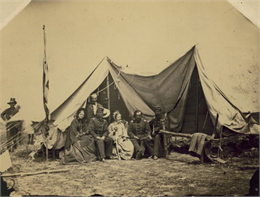 Camp of the 2nd Wisconsin Infantry, 1862 ca.
Seated (left to right) are officers Lucius Fairchild, Colonel Edwin O'Connor, and Major Thomas Allen. With them are Mrs. Hathaway, Captain Hathaway (standing) and Mary Howe. Behind the tent is a man identified in Fairchild's own handwriting as Ralph, who wears one of the black hats for which the 2nd Wisconsin and other regiments in the Iron Brigade were famous. View the original source document: WHI 33489
The 2nd Wisconsin Infantry was organized at Camp Randall in Madison, and mustered into a three-year period of service on June 11, 1861. It left Wisconsin for Washington, D.C., June 20-26, 1861, and spent most of the war around the nation's capital, in Virginia, Maryland, and Pennsylvania.
It fought at the First Battle of Bull Run, the defenses of Washington D.C., Antietam, Chancellorsville, and Gettysburg. On June 11, 1864, soldiers who did not re-enlist were ordered home to Wisconsin, and the veterans and new recruits were consolidated into an independent battalion of two companies.
At the end of November 1864, the remaining members of the 2nd Wiscosnin Infantry were again consolidated, this time into the 6th Wisconsin Infantry as companies G and H. The regiment lost 315 men during service. Ten officers and 228 enlisted men were killed. Seventy-seven enlisted men died from disease.
Source: [Estabrook, Charles E, ed. Records and sketches of military organizations... (Madison, 1914?)]