Historical Essay
Primary Elections in Wisconsin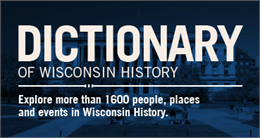 Until 1905, Wisconsin voters could not choose the people whose names appeared on ballots in November elections. Instead, candidates were chosen privately by party leaders who traded favors, political appointments, and cash to get friends on the ballot. "Wherever there was a close contest in a nominating convention," recalled Sen. Irvine Lenroot, "those who were willing to bribe delegates seldom failed to find some who were willing to be bribed."
Beginning in 1887, Robert M. La Follette called for direct primary elections to replace this corrupt system, but for years he was thwarted by incumbents who profited from it. Finally, in 1903, progressive lawmakers forced a referendum on the issue, to be held in 1904. Fearing that opponents would undermine it by packing the 1904 party convention, La Follette hired UW football players to work security. Every delegate had to show proper credentials and run a gauntlet of tough guys to participate. Reform carried the day.
In the November 1904 referendum, voters endorsed the change from secret caucuses to open primaries. When the system was used for the first time in 1906, though, La Follette got a surprise. He had hand-picked Irvine Lenroot to succeed him as governor and aligned the progressive Republican machine behind him. The voters, however, chose incumbent governor James O. Davidson as the Republican candidate instead.
In 1911 Wisconsin's primary law was expanded to include presidential candidates. Our first presidential primary was held in April 1912, when La Follette gained the most votes (Democrat Woodrow Wilson won the national election in November).
Lovejoy, Allen F. La Follette and the Establishment of the Direct Primary in Wisconsin, 1890-1904. (New Haven: Yale Univ. Press, 1941) and links above.
Learn More
Primary Elections in Wisconsin
See more images, essays, newspapers and records about primary elections in Wisconsin.

Dictionary of Wisconsin History
Explore more than 1,600 people, places and events in Wisconsin history.