Historical Essay
20th Wisconsin Infantry History
Wisconsin Civil War Regiment
Enlarge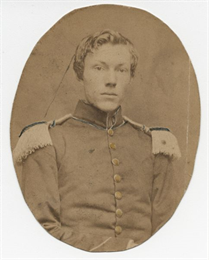 Edward G. Miller, 1862 ca.
Waist-up portrait of Captain Edward G. Miller, Company G, 20th Wisconsin Infantry, in uniform with epaulets. View the original source document: WHI 70251
The 20th Wisconsin Infantry was organized at Camp Randall in Madison and mustered into service on August 23, 1862. The regiment left Wisconsin for St. Louis, Missouri, on August 30, and quickly traveled to Benton Barracks on September 2 and then to Rolla, Missouri, on September 6.
Expeditions and service took the regiment through Missouri, Arkansas, Mississippi, Louisiana, Texas, Mexico, and Alabama over the next three years. It participated in the Battle of Prairie Grove, the Siege of Vicksburg, the protection of the American Consul in Matamoras, Mexico, and the assault and the capture of Fort Blakely, Alabama. The regiment was ordered to Galveston, Texas, and served on duty there until July 14, 1865, when it mustered out.
It lost 251 men during service. Five officers and 100 enlisted men were killed. One officer and 145 enlisted men died from disease.
[Source: Estabrook, Charles E, ed. Records and sketches of military organizations: population, legislation, election and other statistics relating to Wisconsin in the period of the Civil War. (Madison, 1914?)]