Historical Essay
34th Wisconsin Infantry History
Wisconsin Civil War Regiment
Enlarge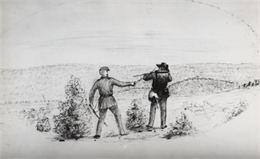 Civil War Soldier Firing Rifle, 1860s ca.
Marginal sketch of a soldier firing his rifle from original letters written by Private Edmund F. Bennett of Newport, Wisconsin, Company E, 12th Wisconsin Volunteers. View the original source document: WHI 69820
The 34th Wisconsin Infantry was organized at Camp Randall in Madison and mustered into service on December, 1862.
The regiment left Wisconsin and moved to Columbus, Kentucky, from January 31-February 2, 1863. It then served garrison and fatigue duty at Fort Halleck in Columbus, Kentucky, until August 1863, when various companies began to detach for other service. Co. E detached at Paducah, Kentucky, March 3; companies G and I at Cairo, Illinois, April 25-June 1; and the other companies at Memphis, Tennessee, May 12.
The regiment re-united at Cairo, Illinois, on August 14, 1863, returned to Wisconsin on August 16, and mustered out on September 8, 1863. It lost 19 men during service, one officer and 18 enlisted men, all by disease.
[Source: Estabrook, Charles E, ed. Records and sketches of military organizations: population, legislation, election and other statistics relating to Wisconsin in the period of the Civil War. (Madison, 1914?)]