Historical Essay
27th Wisconsin Infantry History
Wisconsin Civil War Regiment
Enlarge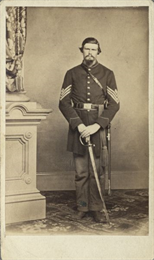 William N. Williams, 1860s ca.
Full-length carte-de-visite portrait of First Sergeant William N. Williams from Company K of the 27th Wisconsin Infantry, standing in uniform holding his sword in front of him. View the original source document: WHI 70484
The 27th Wisconsin Infantry was organized at Camp Sigel in Milwaukee and mustered into service on March 7, 1863. The regiment left Wisconsin for Columbus, Kentucky, on March 16, 1863.
From Kentucky it traveled through Louisiana, Mississippi, Arkansas, Alabama, and briefly to Texas. The 27th Wisconsin Infantry participated in the Siege of Vicksburg, the capture of Little Rock (in 1864 companies A, D, E, and "H were assigned to guard duty along the Little Rock & Memphis Railroad for a short time), the campaign against Mobile and its defenses, the Siege of Spanish Fort, and the assault and capture of Fort Blakely.
The regiment was mustered out on August 5, 1865, and was discharged and disbanded on August 29, 1865. The regiment lost 259 men during service. Twenty-two enlisted men were killed. Five officers and 232 enlisted men died from disease.
[Estabrook, Charles E, ed. Records and sketches of military organizations: population, legislation, election and other statistics relating to Wisconsin in the period of the Civil War. (Madison, 1914?)]