Historical Essay
Carriage and Wagon Industry in Wisconsin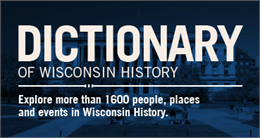 The manufacture of carriages and wagons played an important role in the early stages of industrial development in Wisconsin. Growing out of independent blacksmith and wheelwright concerns, carriage and wagons were one of the first small-scale industries, along with flour milling, to develop within the agricultural regions of the state.
By 1850, 74 firms were listed as wagon makers and 10 as coach and carriage makers. Wagon and carriage manufactures were common in larger communities in the 1850s and 1860s. The division between wagon and carriage manufacturers remained a distinctive feature of the industry in its earliest years but by the late 1850s, increased centralization led many companies to develop a broad range of vehicle types. Bain Wagon Works, started in 1852 in Kenosha, became the state leader in wagons and carriages, and was by 1900, one of the largest wagon making plants in the country.
The industry boomed from 1860 to 1870 as agricultural production increased. The value of carriage and wagon production lagged only behind flour milling and lumber. Kenosha and Racine counties were the most productive areas of the state, home to such dominant firms as Bain Wagon Works, Mitchell and Lewis Wagons (1866), and the Fish Brothers (1862). By 1880, the boom had ended and the industry experienced a period of massive consolidation. The mass production of parts and wagons, made possible by the formation of large companies, helped to keep Wisconsin at the center of the industry. Although production levels continued to increase through 1920, the relative importance of the industry began to decline. By 1919, the wagon and carriage industry had dropped from the list of the state's top 20 industries. The automobile ultimately led to the demise of the wagon and carriage industry though some companies had attempted to develop automobile departments within their factories. Some companies retooled themselves for the sole production of automobiles while others worked with agricultural machinery firms to produce farm equipment.
Wisconsin's Cultural Resources Study Units, Wisconsin Historical Society
Learn More
Carriage and Wagon Industry in Wisconsin
See more images, essays, newspapers and records about the carriage and wagon industry in Wisconsin.

Dictionary of Wisconsin History
Explore more than 1,600 people, places and events in Wisconsin history.