Historical Essay
Wisconsin State flag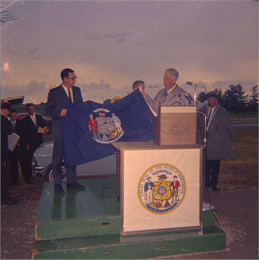 Obey and Knowles
Assemblyman David R. Obey (left) and Governor Warren P. Knowles outdoors at an unidentified ceremonial event. The two men are holding the Wisconsin State Flag. View the original source document: WHI 101104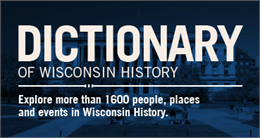 Adopted: 1863
An official design for Wisconsin's state flag was initially provided by the legislature in 1863. Until that date, a flag had not been adopted and Civil war regiments in the field were requesting flags. The legislature formed a 5 member joint select committee to report "a description for a proper state flag." This action resulted in the adoption of Wisconsin's flag. In 1913, the flag was changed, specifying a dark blue background with the state coat of arms centered at each side. That design remained unchanged until 1979, when legislature was asked to change the flag design so it would appear more distinctive and recognizable. They added the word "Wisconsin" and the statehood date in "1848" in white letters, centered respectively above and below the coat of arms.
See also Section 1.08 of the Wisconsin Statutes for the statutory requirements.
Wisconsin Department of Tourism
Learn More
See more images, essays, newspapers and records about the state symbols of Wisconsin.

Dictionary of Wisconsin History
Explore more than 1,600 people, places and events in Wisconsin history.