Historical Essay
Milk strikes, 1933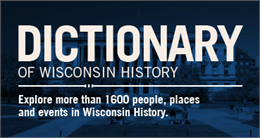 During the Depression, low prices paid by dairies and creameries for milk caused farm foreclosures and rural poverty. Tens of thousands of farmers banded together in the Wisconsin Farm Holiday Association and the more radical Wisconsin Co-operative Milk Pool, vowing to reduce supply and raise prices by witholding milk from the market. Many other farmers did not support these efforts, however, and when in 1933 some activists resorted to intimidation and violence to disrupt the supply of milk, the state called out the National Guard. The troops responded with violence of their own, and at least three farmers were killed in clashes among picketers, protesters, and soldiers. The milk strikes lost momentum during November, 1933, following the violence and rising milk prices.
Jacobs, Herbert Austin. "The Wisconsin Milk Strikes." Wisconsin Magazine of History. Volume 35, number 1 (autumn, 1951): 30-35 (link)
Learn More
See more images, essays, newspapers and records about milk strikes in Wisconsin.

Dictionary of Wisconsin History
Explore more than 1,600 people, places and events in Wisconsin history.